Senior Member
Join Date: Jan 2009
Location: NZ
Bikes: More than 1, but, less than S-1
Posts: 3,837
Mentioned: 0 Post(s)
Tagged: 0 Thread(s)
Quoted: 3 Post(s)
Thoughts on Alloy dropout Repair/Replacement?
---
Hi guys,
So, the sad story is that I cracked the drive side rear drop out of my frame. Repair/Replacement wouldn't be a concern if it were a garden variety genetic. But, it's a custom with an extra high BB to make room for 200mm proportional cranks.
The original builder is in the States and the frame is deserving of no warranty. I'm in New Zealand and have an AC/DC/HF source. But, my tig torch and gas equipment were lost, along with a lot of other tools, when thieves burgled my storage unit. However, I believe I've located a local frame builder with alloy experience and the willingness to help.
After looking at the photos below, what do think the reasonable possible solutions or course of action are?
[IMG]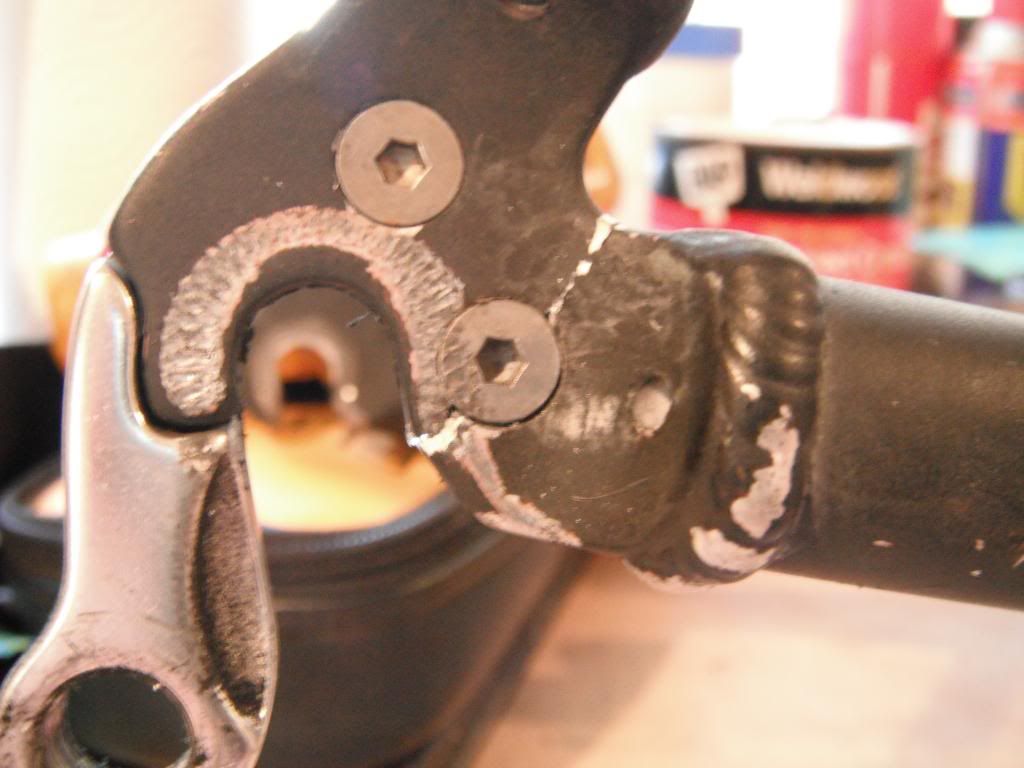 [/IMG]
[IMG]
[/IMG]
[IMG]
[/IMG]
As you can see it's cracked through the hanger attachment screw hole almost like a perferation. Looking at Nova and Ceeways offerings, it appears as though the current equivalent to these dropouts no longer use two screws and in the case of Nova, now includes some webbing between the seat and chainstay joints.
Options:
1. Simply attempt to weld the existing piece. Which, I'm highly skeptical of. If it's broken once, chances are good it will break again in short order.
2. Attempt to remove the current dropout and replace with a nearly identical one. Which means rewelding immediately in the zone that has been previously welded.
3. Remove the current dropout and rebate/relieve the stays to accept a larger "plate style" dropout. The most hassle, but, potentially the best longevity.
The stays are 7000 series Columbus Zonal. And, I don't plan to keep the frame forever. It was a used custom for experimentation purposes with the propotional long cranks. Now that I'm sure that is the direction I what to continue a frame to my personal dimensions will be in the future. But, due to personal and financial considerations, not right now.
Thoughts?
__________________
Birth Certificate, Passport, Marriage License Driver's License and Residency Permit all say I'm a Fred. I guess there's no denying it.