Cheap Frames at Overstock

10-29-14, 04:35 PM
Senior Member
Join Date: Mar 2012
Location: Tallahassee, FL
Posts: 3,729
Mentioned: 4 Post(s)
Tagged: 0 Thread(s)
Quoted: 983 Post(s)
Likes: 0
Cheap Frames at Overstock
---
Cro-mo MTB 26 Red Frame - Overstock™ Shopping - Great Deals on Bike Parts & Accessories
We don't know anything about frame building, but looked askance at the odd reinforcements(?) at the head tube. A triangle underneath and a plate above the top tube. Then we saw in the Q & A that the head tube angle is listed at 56.1. Which from what I can tell would be unusually straight.
Made us wonder if this wasn't a manufacturing defect requiring the crude reinforcements. Which rendered them unsuitable for regular commercial channels.
But we're relative neophytes and wondered what the pros thought.

10-29-14, 06:49 PM
Senior Member
Join Date: Feb 2012
Location: Rochester, NY
Posts: 11,614
Bikes: Stewart S&S coupled sport tourer, Stewart Sunday light, Stewart Commuting, Stewart Touring, Co Motion Tandem, Stewart 3-Spd, Stewart Track, Fuji Finest, Raleigh Pro, Trek Cycle Cross, Mongoose tomac ATB, GT Bravado ATB, JCP Folder
Mentioned: 0 Post(s)
Tagged: 0 Thread(s)
Quoted: 1734 Post(s)
Rarely is it worthwhile to add cost to a defective product to then sell it at a discount.

These look to be typical reinforcing gussets or triangulations. Attempts to more the bending moment further out from the joint.

Some will say these indicate a "burly" frame, others say that a well designed and built frame shouldn't need extra gusetting. Andy.

10-29-14, 07:20 PM
Decrepit Member
Join Date: Aug 2005
Location: Santa Rosa, California
Posts: 10,491
Bikes: Waterford 953 RS-22, several Paramounts
Mentioned: 64 Post(s)
Tagged: 0 Thread(s)
Quoted: 616 Post(s)
Likes: 0
Liked 0 Times in 0 Posts
This is a 2010 Taiwan made Schwinn Sprint fixed gear bike with track geometry. Tubing is Reynolds 853, and it's designed with a similar reinforcement on the bottom of the DT/HT joint. I've seen these on other brands/models and have assumed that they're there to mitigate DT wrinkling of thin-wall tubing in case there's a front end collision.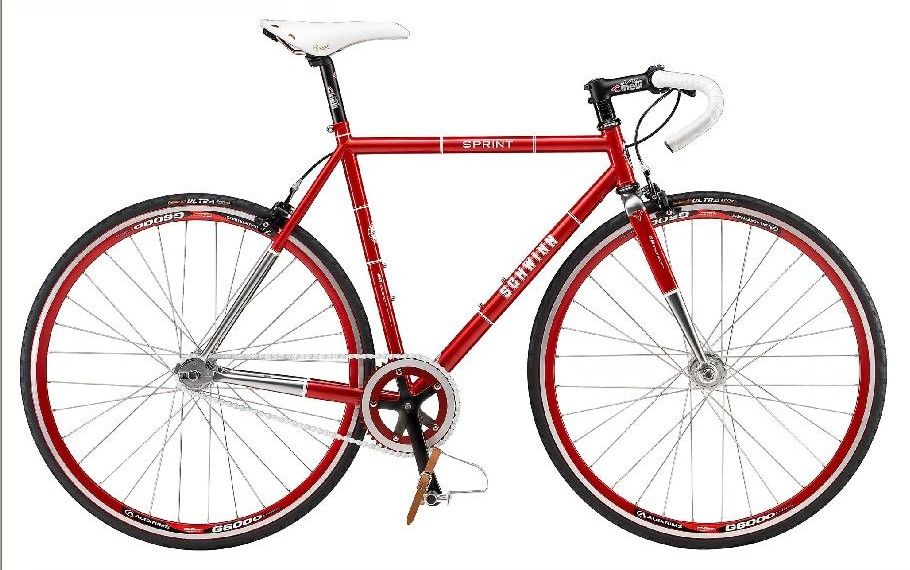 __________________
- Stan
my bikes
Science doesn't care what you believe.


10-31-14, 08:36 AM
Senior Member
Join Date: Nov 2010
Location: River City, OR
Posts: 672
Mentioned: 0 Post(s)
Tagged: 0 Thread(s)
Quoted: 9 Post(s)
Likes: 0
Liked 0 Times in 0 Posts
Since the frame in question is a MTB frame, and will presumably be fitted with a suspension fork... it looks like the designer was trying to gain some tire clearance by joining the downtube closer to the toptube, and provide additional headtube support by adding the gusset. Might work- might not. Too many variables to tell. At that price it might be worth a trial.

11-05-14, 02:39 PM
Senior Member
Join Date: Jul 2011
Posts: 2,434
Mentioned: 0 Post(s)
Tagged: 0 Thread(s)
Quoted: 31 Post(s)
Likes: 0
Liked 0 Times in 0 Posts
I realize these are standard details on some bikes, often cheaper bikes. That said, when the EU came in with standards for bike frames it was noted that the custom frames despite their long time in reality, did not always meet the new tests. That was about all I heard, then stuff returned to normal, not a word since. But just wondering whether having EU standards has changed any details.
Thread
Thread Starter
Forum
Replies
Last Post

Posting Rules
You may not post new threads
You may not post replies
You may not post attachments
You may not edit your posts
---
HTML code is Off
---