My rowing bicycle

01-24-23, 09:05 PM
Newbie
Join Date: Aug 2018
Location: Tokyo Japan
Posts: 15
Bikes: ESR-MAGNESIA
Mentioned: 0 Post(s)
Tagged: 0 Thread(s)
Quoted: 8 Post(s)
Likes: 0
My rowing bicycle
---
Hello,
Some of you were asking me questions about my ROWGLIDER rowing bike.
I simplified the design. I am currently making the prototype with wood. See attached jpegs.
If it works, I will then make it in carbon fiber square cross section tubing.
It cost me $400 complete for my 2020 chromoly prototype. You can see it on YouTube as ROWGLIDER
Is anybody manufacturing an affordable rowing bike?
I only know
www.rowingbike.com
and
www.rowbike.com
My design uses standard components. So it was super cheap.
It is fast and smooth. My bike does NOT use a bungee cord for tensioner.
So I have the most energy efficient design. You don't squander your rowing energy into stretching a bungee cord.
If anybody has any question, feel free to ask.
Regarding its weight, it's chromoly steel, so it's a little heavy.
If everything was made of aluminum alloy it would weigh somewhere between 26 pounds & 30 pounds (12.7 kilos?)
I hope all of you beautiful people in this bikeforums community have a wonder 2023.
Once again, I want to thank all of you in this community. who made my rowing bike possible
You helped me a lot when I had questions during the prototyping stage in 2017.
Bye
Alberto

01-25-23, 07:41 AM
Humble Administrator
Join Date: Jul 2007
Location: Kalamazoo MI
Posts: 20,780
Bikes: Fuji SL2.1 Carbon Di2 Cannondale Synapse Alloy 4 Trek Checkpoint ALR gravel Viscount Aerospace Pro Colnago Classic Rabobank
Mentioned: 56 Post(s)
Tagged: 0 Thread(s)
Quoted: 2868 Post(s)
Pic Assist -
https://www.bikeforums.net/g/album/17509995

01-25-23, 09:53 AM
Senior Member
Join Date: Aug 2009
Posts: 1,809
Mentioned: 10 Post(s)
Tagged: 0 Thread(s)
Quoted: 1081 Post(s)
Nice! That's a clever design!

01-25-23, 11:23 AM
I don't think I could concentrate on rowing, biking and avoiding dog poop, so I just row at home and bike outside.

01-25-23, 12:05 PM
working on my sandal tan
Join Date: Aug 2011
Location: CID
Posts: 22,189
Bikes: 1991 Bianchi Eros, 1964 Armstrong, 1988 Diamondback Ascent, 1988 Bianchi Premio, 1987 Bianchi Sport SX, 1980s Raleigh mixte (hers), All-City Space Horse (hers)
Mentioned: 96 Post(s)
Tagged: 0 Thread(s)
Quoted: 3691 Post(s)
I still want one of these. Too lazy to build one, though.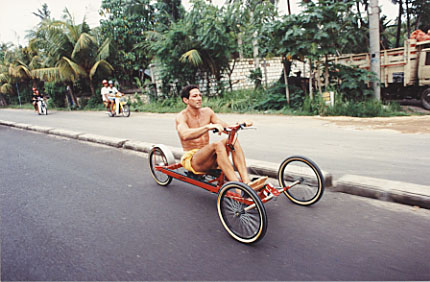 https://www.ashrita.com/landrowing/

01-25-23, 12:19 PM
Knurled Nut

Join Date: Jun 2018
Location: New England
Posts: 14,869
Bikes: Serotta Atlanta; 1994 Specialized Allez Pro; Giant OCR A1; SOMA Double Cross Disc; 2022 Allez Elite mit der SRAM
Mentioned: 62 Post(s)
Tagged: 0 Thread(s)
Quoted: 7836 Post(s)

01-25-23, 01:03 PM
Expired Member
Join Date: Jun 2007
Location: TN
Posts: 10,340
Mentioned: 32 Post(s)
Tagged: 0 Thread(s)
Quoted: 3112 Post(s)
When I was a kid we had a contraption known as an "Irish Mail." Looked similar to this, as I recall.

01-26-23, 08:57 AM
Senior Member
Irish mails are pretty simple. The ones I've seen (a guy in our club has a couple of them) have 4 wheels, wooden seats, and are steered by foot. Champiot is a current manufacturer.