Nishiki Custom Sport

08-31-12, 10:11 AM
Newbie
Join Date: Aug 2012
Posts: 1
Mentioned: 0 Post(s)
Tagged: 0 Thread(s)
Quoted: 0 Post(s)
Likes: 0
Liked 0 Times in 0 Posts
Nishiki Custom Sport
---
Returning to bicycling after >30 years. found this bike at a garage sale and it FIT ME. That's a first! i'm short. Had it hanging in barn for last 10 years. i see a serial number of B13089 at the base of the frame near the pedal gear. This coding does not match anything i'm seeing about Nikishi serial numbers. Any help on year this was build would be nice. It does have a "JAPAN" sticker on the frame tube above the pedal axle. As i am brand new to biking, i don't know what is original and what is not. i'll be taking to a shop to have it checked out and estimate cost to recondition what is here. Where does one find out how to be self sufficient in fixing/repair on these things? i have tons to learn. Help in where to start would be greatly appreciated.

just call me menopausal short ****.

thanks.

08-31-12, 10:38 AM
Flat Ire
Join Date: Feb 2008
Location: SoCal
Posts: 403
Bikes: Trek 1100, DeRosa Idol
Mentioned: 0 Post(s)
Tagged: 0 Thread(s)
Quoted: 6 Post(s)
Likes: 0
Liked 0 Times in 0 Posts
There is tons of bike maintenance info on the web, including from the legendary late Sheldon Brown. Bikeforums has links to Sheldon Brown web pages in the Bike Mechanics section. There are bike maintenance/repair videos on youtube. And if you have a very specific question that isn't answered in any of these, you can post it in the Bike Mechanics section and you will get expert advice there. Also there are a good many books on bike maintenance in case you prefer to refer to a book rather than searching the web. Maybe someone else can recommend a specific one.

Welcome to cycling! And never forget that it's supposed to be fun!

08-31-12, 12:37 PM
Galveston County Texas
Join Date: Nov 2007
Location: In The Wind
Posts: 30,981
Bikes: 2010 Expedition, 03 GTO
Mentioned: 15 Post(s)
Tagged: 0 Thread(s)
Quoted: 709 Post(s)
Likes: 0
Post some good pics in The Classic and Vintage Forum.
I started road riding on a $15 Sport.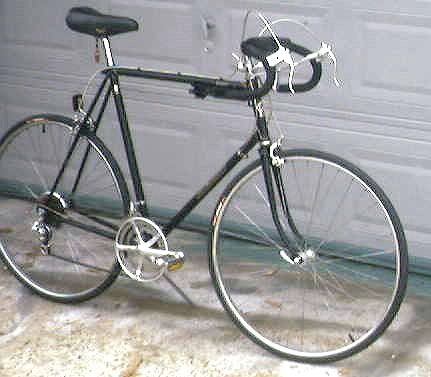 __________________
Fred "The Real Fred"

08-31-12, 05:04 PM
Just Plain Slow
Join Date: Mar 2010
Location: Santa Clarita, CA
Posts: 6,039
Bikes: Lynskey R230
Mentioned: 39 Post(s)
Tagged: 0 Thread(s)
Quoted: 297 Post(s)
Likes: 0
Thread
Thread Starter
Forum
Replies
Last Post
Classic and Vintage Sales
Classic and Vintage Bicycles: Whats it Worth? Appraisals.

Posting Rules
You may not post new threads
You may not post replies
You may not post attachments
You may not edit your posts
---
HTML code is Off
---