Reading glasses - for on trail fixes

11-30-19, 09:42 AM
Senior Member
Join Date: May 2007
Posts: 59
Mentioned: 0 Post(s)
Tagged: 0 Thread(s)
Quoted: 7 Post(s)
Likes: 0
Liked 0 Times in 0 Posts
Reading glasses - for on trail fixes
---
I do not need a pair of glasses when i ride, but if i have an issue if I might need a pair of my reading glasses to fix the problem on the trail. I use a tool saddle bag and carry no tools in a pocket or any other place than in the saddle bag. Does any one have a suggestion to keep a pair of reading glasses on my bike and have the glasses not get all scratch up as i ride. If I put a pair of glasses in my saddle bag, they will scratch and break.

thanks

11-30-19, 09:46 AM
Senior Member
Join Date: Aug 2006
Location: Valley Forge: Birthplace of Freedom
Posts: 693
Bikes: Novara Safari
Mentioned: 0 Post(s)
Tagged: 0 Thread(s)
Quoted: 164 Post(s)
Hang them on my collar, in a pocket or in my bag. Its large enough to hold a bunch of stuff. I use the cheap Pharmacy type glasses so if they were to get broken I wouldn't be too upset.
__________________
Be watchful, stand firm in the faith, act like men, be strong. Let all that you do be done in love.

11-30-19, 10:10 AM
Member
Join Date: Jun 2011
Location: SE Pennsylvania
Posts: 45
Bikes: Cannondale Quick 5
Mentioned: 0 Post(s)
Tagged: 0 Thread(s)
Quoted: 0 Post(s)
Likes: 0
There are slim "Ben Franklin" style readers that come in a rigid plastic case with a pocket clip that is pretty small. There are also readers that fold in half and come in a case that's fairly compact (Foster Grant is one brand). Whether either is compact enough, only you can decide. The pharmacy chains like CVS and Walgreens have them, although they are a tiny percentage of their selection. I've no direct experience to cite as I have enough astigmatism that I wear my progressives all the time.

11-30-19, 10:21 AM
Senior Member
Join Date: Feb 2014
Location: Pasadena, CA
Posts: 4,163
Bikes: Schwinn Varsity
Mentioned: 18 Post(s)
Tagged: 0 Thread(s)
Quoted: 1536 Post(s)
Ya, I need reading classes to work on the bikes.
I went to Costco and bought something like this 3 pack with cheap cases to keep from scratching.
Had to get the 2.0 magnification
May not be as good as prescription reading classes but gets the job done.
https://www.costco.com/design-optics...100329379.html
Just pack the glasses case in with your tools, extra tube and patch kit.
---
Last edited by trailangel; 11-30-19 at

10:27 AM

.

01-06-20, 09:06 AM
Senior Member
Join Date: Jul 2008
Location: 25 miles northwest of Boston
Posts: 24,865
Bikes: Bottecchia Sprint, GT Timberline 29r
Mentioned: 103 Post(s)
Tagged: 0 Thread(s)
Quoted: 3720 Post(s)
---
Last edited by rumrunn6; 01-06-20 at

09:11 AM

.

01-06-20, 05:16 PM
I've bought the foster grant gideon folding glasses for cheap on ebay. Of course, it's not always possible to get them so cheap but you can generally do about half of what the drug stores charge even on a bad day. I'm just getting back into cycling and carry the tools but hadn't thought that I need glasses too or the tools are useless...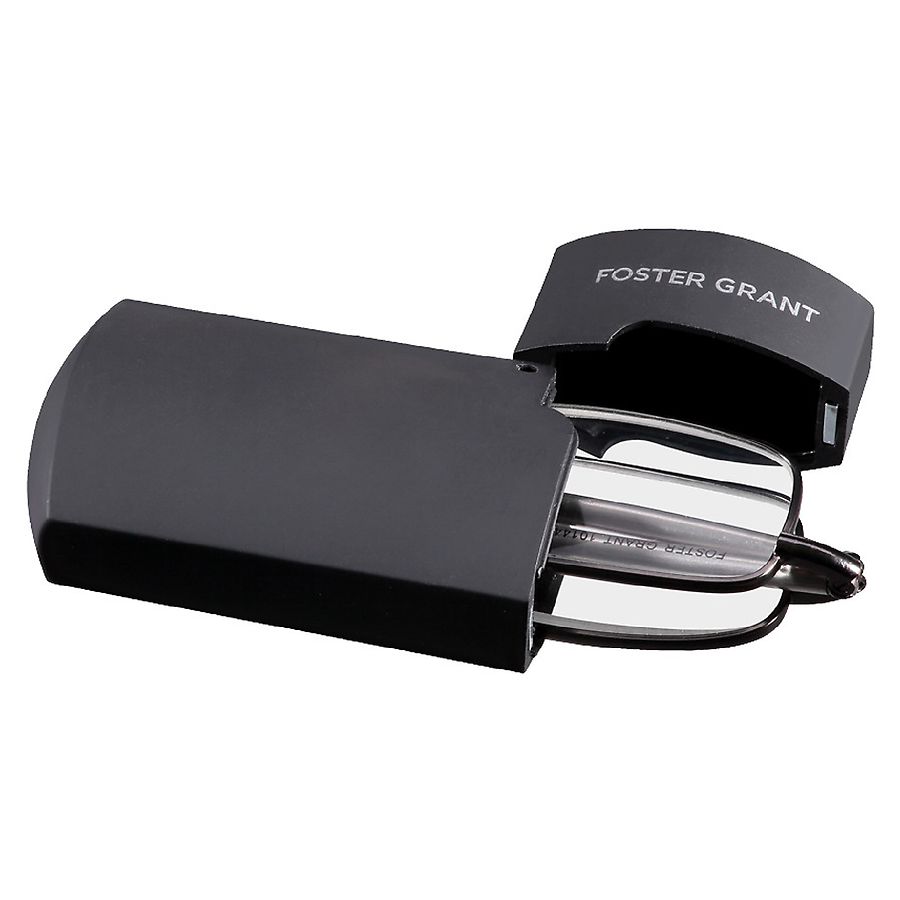 01-06-20, 06:58 PM
I buy the cheap readers from my local store for about $2. I have a prescription for reading glasses after having cataract surgery. I requested distance vision lenses, which work fine for 300 yds., but not for up close. So the decision to buy cheap readers, or spring for the prescription ones. I think I have ten pairs around the shop and on my head, and even with a few scratches on the lenses, I can still see well enuf for a quick repair. Find a soft cloth bag for them and they will be fine in your kit. Smiles, MH

01-06-20, 07:46 PM
Senior Member
Join Date: Sep 2015
Location: Left Coast, Canada
Posts: 4,149
Mentioned: 24 Post(s)
Tagged: 0 Thread(s)
Quoted: 1675 Post(s)
As others have said, buy a pair of cheap readers and wrap them in two or three sheets of blue shop towel, fastened with an elastic band. Put them in the tool bag. Now you have readers and shop towels!

02-15-20, 03:50 PM
Junior Member
Join Date: Feb 2016
Posts: 15
Mentioned: 0 Post(s)
Tagged: 0 Thread(s)
Quoted: 4 Post(s)
Likes: 0
I find a pair of reading glasses on every few rides I didn't feel like I needed them for a while but have kept a few and now use them for fine works. electronics etc.

Have you considered a monocle?

02-15-20, 07:29 PM
Quidam Bike Super Hero
Join Date: Jan 2019
Location: Decatur, GA (Metro Atlanta, East)
Posts: 877
Bikes: 1995 Trek 800 Sport, aka, "Frankentrek"/"Camel-Trek"
Mentioned: 2 Post(s)
Tagged: 0 Thread(s)
Quoted: 254 Post(s)
Keep mine in a wentz box with my cash and i d cards....

02-15-20, 08:48 PM
don't try this at home.
Do you wear sunglasses or clear eye protection glasses? It's easy to find inexpensive wraparound safety glasses that look like biking sport glasses with built-in reader patches.
Stick-on readers!
I've been using stick-on readers on my cycling glasses for years. (I have a prescription insert, just for my distance vision, with a +2 stick-on for reading the Garmin or my phone. I have progressive bifocal glasses off the bike.)
Hydrotac
is one brand. I cut one lens in half with a razor knife, then moved it around a little, then trimmed it some more until it was right. It sticks on with a drop of water, and won't come off, even rinsing under the faucet. I could peel it off with a fingernail. I've had these same stick-ons for at least 6 years now, and even transferred them to my new distance insert.
So just the handbar area is in close focus, perfect!
Riding glasses, with prescription insert, with reader stick-on: