Recommendations for a decent tail light

07-26-22, 02:28 PM
The hotrods are awesome! I have 2 of the 90s on my rear seat stays. Almost too bright lol. Cars always see me though, and battery life is very good.
Dave

07-26-22, 04:08 PM
Rubber side down
Join Date: Mar 2011
Location: Teh Quickie Mart
Posts: 1,753
Bikes: are fun! :-)
Mentioned: 0 Post(s)
Tagged: 0 Thread(s)
Quoted: 5 Post(s)
I've been using one of these
LEZYNE STRIP DRIVE REAR
lights the past few years and it has been excellent. It checks all of the boxes you mentioned.
---
Last edited by Clipped_in; 07-26-22 at

04:57 PM

.

07-26-22, 04:50 PM
don't try this at home.
Join Date: Jan 2006
Location: N. KY
Posts: 5,619
Mentioned: 10 Post(s)
Tagged: 0 Thread(s)
Quoted: 854 Post(s)
Originally Posted by
scutchin
I have been trying to find good LED rear lights that strap onto the seat stays to complement my Garmin radar rear light, but LED's tend to be so directional that they are virtually useless unless they are pointing directly to the rear.

Are these Cygolite Hotrods able to be seen when angled forward 45-ish degrees, maybe they have a diffuser?
The Cygolites come with a seat stay plastic clamp. But it might not fit some of the newer carbon stays that often have very unusual cross sections.
My Cygolite 150 is moderately brighter than my old Cygolite 2W -- directly behind the light. But it's central bright beam is much wider than the 2W. So, 100 yards behind, it's covering way beyond the width of a two lane road. And 1/10 mile away, it's coverage is very wide. Close up, it's bright enough in any direction, just from the spill light away from the central bright cone of light.
Getting it aimed reasonably close to "back down the road" is fine. No need for precise aiming.
The blink catches my eye instantly on a bright sunny day, when the other riders with 150s are at least 1/10 mile up the road. That's why I run it all day, so distracted drivers will get a very early warning.
~~
The two lens 350 is fantastically bright looking directly at it. Could be too bright for night time? I'd probably aim it downward a bit, to throw a big pool of red light on the road behind me.
~~~~~~~~
From April 2018, my 150 vs 2W comparison. Interesting, the 150 is still going great, with long run times on the single flash mode that I use during the daytime. And the 2W is still working fine, I gave it to another rider I know.
Cygolite 150 vs Cygolite Hotshot 2W
beam spread from the review. 2W on left, 150 on right. A few hundred yards back down the road, that's a very wide coverage.
I just measured this against a room wall: at 10 foot away from the light, the bright beam center is at least 3.5 to 4 feet wide, and quite bright for another foot on either side.
That's 100 to 120 feet wide at 100 yards / 300 feet.
---
Last edited by rm -rf; 07-26-22 at

07:29 PM

.

07-29-22, 10:14 AM
my favorite light is this
Serfas Spectra 150 Bicycle Taillight - TST-150

it has great battery life and bright well made, not sure if they are still available but this light is well made and durable, I have thousands of miles on it. I just replaced it with the Garmin rtl 515 radar / light and love the thing. I really rely on it more than I thought I would. the Garmin is pricey which is why it took me so long to get it but now I recommend it highly,
---
Last edited by rob214; 07-29-22 at

10:18 AM

.

07-29-22, 04:56 PM
Senior Member
Join Date: Dec 2019
Location: 757
Posts: 7,260
Bikes: Madone, Emonda, 5500, Ritchey Breakaway
Mentioned: 1 Post(s)
Tagged: 0 Thread(s)
Quoted: 6545 Post(s)
I have the cygolite, and the bontrager flare. Personally I prefer the bontrager but both work well.

07-30-22, 11:26 AM
If you ride the roads….a Garmin Varia is the ONLY option imo.

07-30-22, 04:10 PM
:D
Join Date: Oct 2013
Location: Mich
Posts: 6,028
Bikes: RSO E-tire dropper fixie brifter
Mentioned: 0 Post(s)
Tagged: 0 Thread(s)
Quoted: 6 Post(s)
I'm hoping the Bryton Gardia R300 comes in time for xmas.
__________________
-Oh Hey!

08-01-22, 03:08 AM
Senior Member


Here in Europe I only have 3 riding scenarios, neither of which those radars would be useful:
- either I am on the road in the city, and the thing would go bonkers because there is 10 cars behind me at all times.
- or I am on a separated bike lane, and the cars behind me are a non-issue.
- or I am on a 'backroad / farm road / gravel track' where there is *almost* no traffic anyway.

There are occasional instances where I am on a big road shared with cars, but those are quite rare.

So I see their usefulness, but it really depends on the types of roads in your area I think.

08-01-22, 04:26 AM
I was on a late-afternoon group ride when we happened to see one of the other groups from our club about 1/4 mile up a long sweeping road. Most of the ~40-50 riders ahead had taillights, but one of them noticeably stood out as ridiculously brighter than the rest, demanding attention in the bright sunlight from even that distance.
I was in the market for a better taillight, and really wished there were some way to find that guy to ask which brand he used, but there was just no way to bridge that large a gap at the speeds we ride. At least no way for me.
Amazingly, the next group up hit a couple of really long lights, and we managed to catch them. I found the guy and asked about his taillight. Turned out to be a Bontrager Flare RT.
I got some for my bikes, and have been very happy with them. I highly recommend!

08-01-22, 11:02 AM
Recreational Road Cyclist
Join Date: Sep 2013
Location: MetroWest, Mass.
Posts: 478
Bikes: 1990 Peter Mooney road bike
Mentioned: 5 Post(s)
Tagged: 0 Thread(s)
Quoted: 220 Post(s)
The Dinotte Quad Red tail light
---
Dinotte Quad Red.
It's nicely made with an aluminum case and a good solid mount. Here it is on my bike:
I bought this (expensive) light to replace a Cygolite Hotshot 150, which I liked and thought was quite bright, but its battery would not hold a charge for very long. I have another copy of it that didn't have that problem.
I compared the Quad to the Hotshot. At about a hundred feet, the Quad was more visible, due to its four red LEDs that made a larger spot to see; the Hotshot was quite bright, but showed as more of a pinpoint. I think the Quad would be more visible at a greater distance.
My experience with the Quad is that it lasts more than four hours but less than five at its brightest strobe setting, and that the times noted at the link above are incorrect. The times on
this instruction sheet
are probably more realistic. I recharge it after four hours with a provided USB C cable.
The mount is quite good too. The light comes with three mounts for a seat post, and mounts for seat stays and aero posts and tubes are available. It has good adjustability, and I can't imagine it coming off its mount:
Dinotte Quad Red mount on seat stay
After trying out the Quad, I bought the Quad Amber, a front headlight. Very nice! I like the form factor more than the flashlight-style Cygolite Metro it replaced.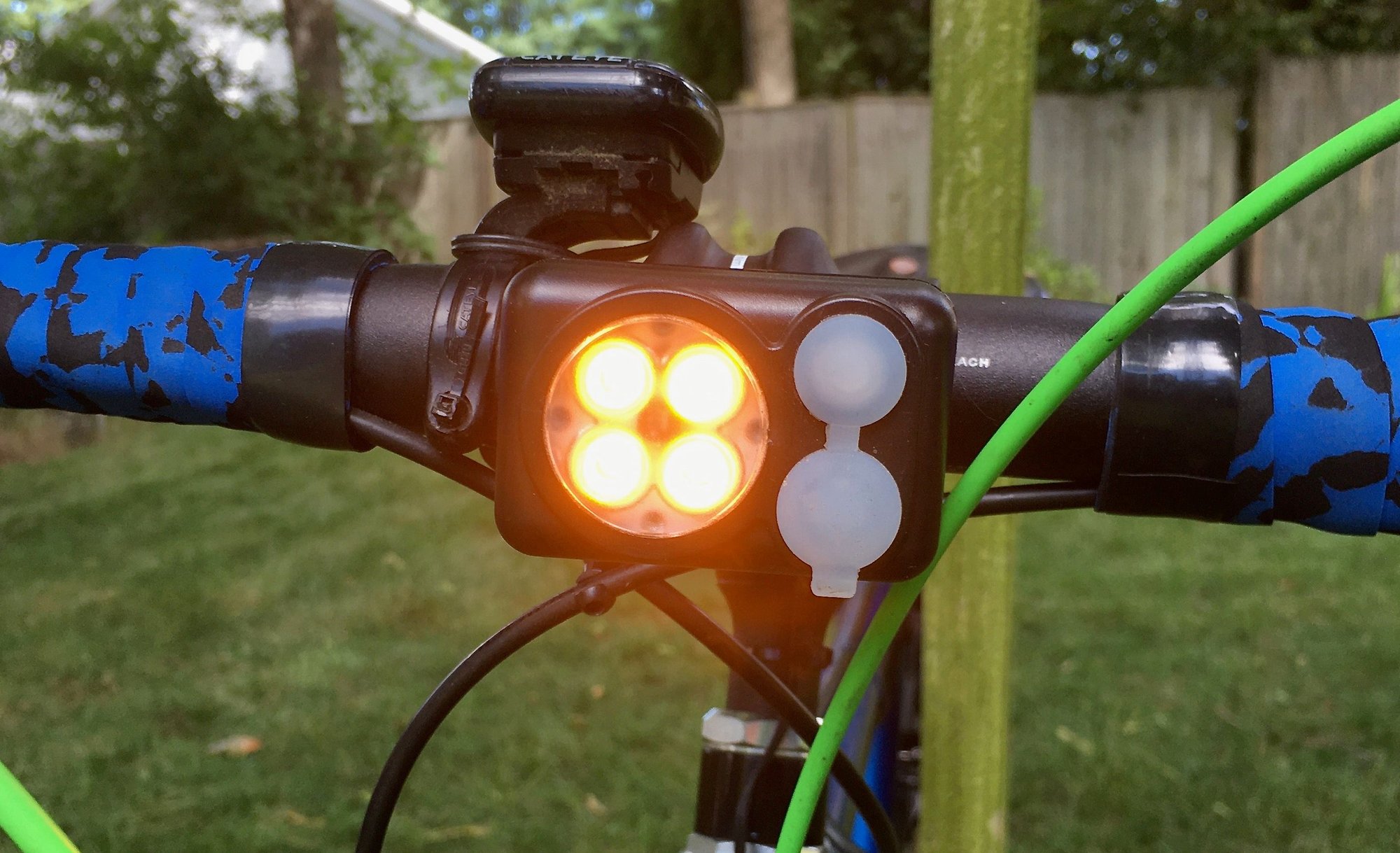 Dinotte Quad Amber front light
---
Last edited by BCDrums; 08-01-22 at

05:24 PM

.