A tale of three frame bags

07-29-12, 09:56 AM
Have bike, will travel
Join Date: Feb 2006
Location: Lake Geneva, WI
Posts: 12,384
Bikes: Ridley Helium SLX, Canyon Endurance SL, De Rosa Professional, Eddy Merckx Corsa Extra, Schwinn Paramount (1 painted, 1 chrome), Peugeot PX10, Serotta Nova X, Simoncini Cyclocross Special, Raleigh Roker, Pedal Force CG2 and CX2
Mentioned: 46 Post(s)
Tagged: 0 Thread(s)
Quoted: 909 Post(s)
A tale of three frame bags
---
I'm using three different frame bags for general cycling. I like having some storage on the bike that is accessible while riding. Yes, handlebar bags offer storage that is easy to reach, too. Frame bags have the benefit of holding heavy items without effects on the handling of a bike. Frame bags also add storage space to the bike and can complement front and rear bags.
The largest bag is the Revelate Tangle frame bag. The bag is sold in 3 sizes. The largest bag fits my size 60cm size Soma Double Cross easily. The Soma frame has a slightly sloping top-tube that is 604mm long. The headtube is also very tall. The bag is held along the top-tube and allows the use of two water bottles. The bottles fit well enough, but removal and re-installation require contact with the bag.
The bag is very well made. It should be very durable and highly water tight. zippers are on both sides and an internal panel divides left and right side pockets. I put tools and spares, including a large air pump on the left side and I store my wallet, phone, food and sunscreen on the right. The bag is secure and does not sway. Plenty of storage.
I would imagine that the bag might restrict the placement of water-bottles with smaller frames. But the bag is ideal for large frames with near horizontal top-tubes.
https://www.revelatedesigns.com/inde...=1&ProductID=5
Sizing:
Small : 15"-18" mountain bikes, or larger Aluminum frames. Some 4 bar full suspension.
52-56cm road / cross bikes
Top length 17", Height 4"
Medium - 17"-20" Mountain frames, 55-58cm road & cross bikes
Top length 19.5", Height 4.5", 1" of height at head tube.
Large - 20"+ steel mtn frames, 56cm- 62cm road & touring bikes.
Top length 21", height 6", 1.5" of length at the head tube.
The second bag is the Jandd Frame Bag.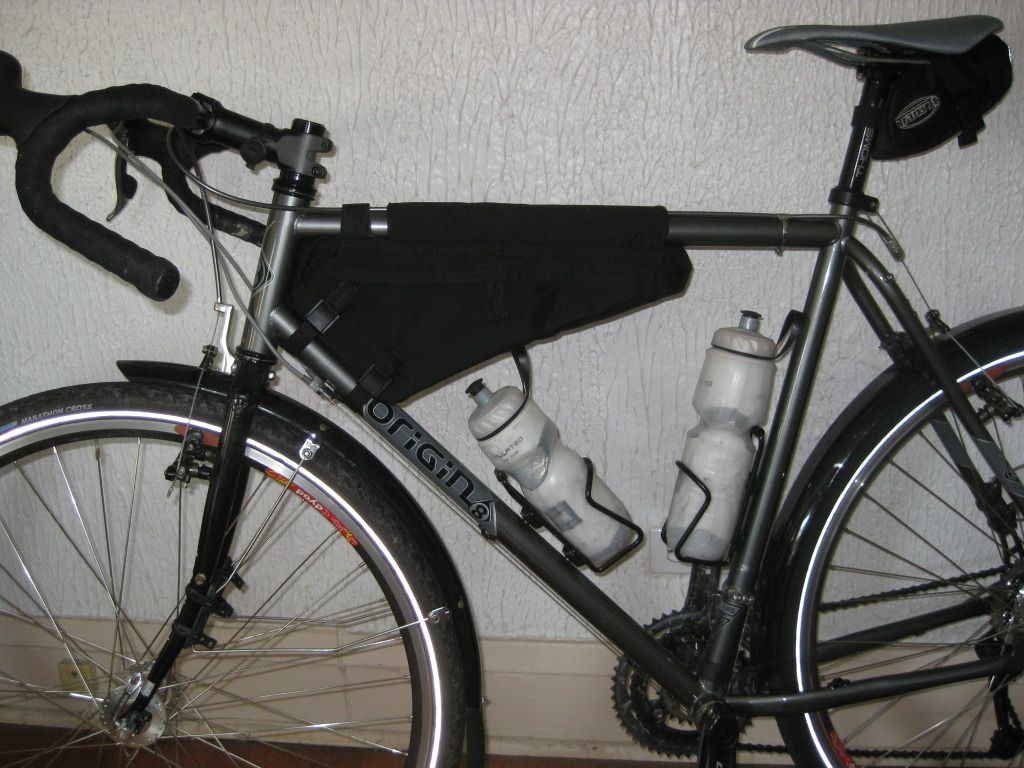 The smaller size of the Jandd Frame bag and more moderate material quality make this bag more affordable. The bag looks durable and well made, I expect it to last many seasons.
https://www.jandd.com/detail.asp?PRODUCT_ID=FFP
The bag has good volume and can hold a large 14" hand pump. The bag offers enough space for personal items, phone, wallet, tools, spares and a few snacks.
The bag fits my 59cm size Cyclocross frame with room to spare. My bike has a 160mm headtube, the bag should also fit touring bikes with 140mm headtubes easily, but smaller bikes with short headtubes might not fit.
The last bag is the Nashbar frame bag
This is a nice low cost bag that will fit most bikes. The quality is good and mine have lasted many years. The bag is very secure. Space is also generous.
The bag does eliminate the seat-tube mounted water bottle. Here it is on a size 51cm Cyclocross bike.
https://www.nashbar.com/bikes/Product...2_167563_-1___
__________________
When I ride my bike I feel free and happy and strong. I'm liberated from the usual nonsense of day to day life. Solid, dependable, silent, my bike is my horse, my fighter jet, my island, my friend. Together we will conquer that hill and thereafter the world.
---
Last edited by Barrettscv; 07-29-12 at

10:06 AM

.

07-29-12, 02:55 PM
Professional Fuss-Budget
Good for you. I guess.

Sorry, but I really have no interest in frame bags. I vastly prefer racks and bags, since I've already got them. If I was touring off-road, where weight distribution is more critical than aerodynamic profile, it'd be a different story.

07-29-12, 03:58 PM
Senior Member
Join Date: Sep 2008
Posts: 5,070
Mentioned: 0 Post(s)
Tagged: 0 Thread(s)
Quoted: 111 Post(s)
Likes: 0
I've got a medium Revelate frame bag on a 56cm Cross-Check, great bag,very sturdy and a couple notches above the Jandd bag. You could easily carry a box of power bars in it.

07-29-12, 05:37 PM
thanks Mr B, neat to see three different types and how you find they work and the build quality. I like the idea of a frame bag, for days when you have a bit more than will go into a seatpost bag. I have a fairly large seatbag that I can put loads of crap into, but a frame bag could be very handy if one doesnt want to go the pannier route.
I shall give these three a better look over another time.
cheers

07-29-12, 07:39 PM
Senior Member
Join Date: Dec 2010
Location: Above ground, Walnut Creek, Ca
Posts: 6,681
Bikes: 8 ss bikes, 1 5-speed touring bike
Mentioned: 0 Post(s)
Tagged: 0 Thread(s)
Quoted: 86 Post(s)
Likes: 0
i used that Jandd bag on a nine month tour. worked out real well. i may still have it.
Thread
Thread Starter
Forum
Replies
Last Post
Cyclocross and Gravelbiking (Recreational)
General Cycling Discussion

Posting Rules
You may not post new threads
You may not post replies
You may not post attachments
You may not edit your posts
---
HTML code is Off
---