Our Burley Wagon Tail in action

10-27-12, 04:01 PM
Senior Member
Join Date: Aug 2012
Location: Atlanta
Posts: 104
Bikes: Surly LHT, Pashley Guv'nor, Pilen Sport, and other stray pups
Mentioned: 0 Post(s)
Tagged: 0 Thread(s)
Quoted: 0 Post(s)
Likes: 0
Liked 0 Times in 0 Posts
Our Burley Wagon Tail in action
---
We wanted a trailer to carry the dogs around from time to time rather than leave them home or in the camper when we were out for the weekend. After looking at what was available in the marketplace, we chose the Burley Wagon Tail. It's a well-built utility trailer that tows nicely behind either of our bikes, and handles our two 16lb Dachshund mutts really nicely.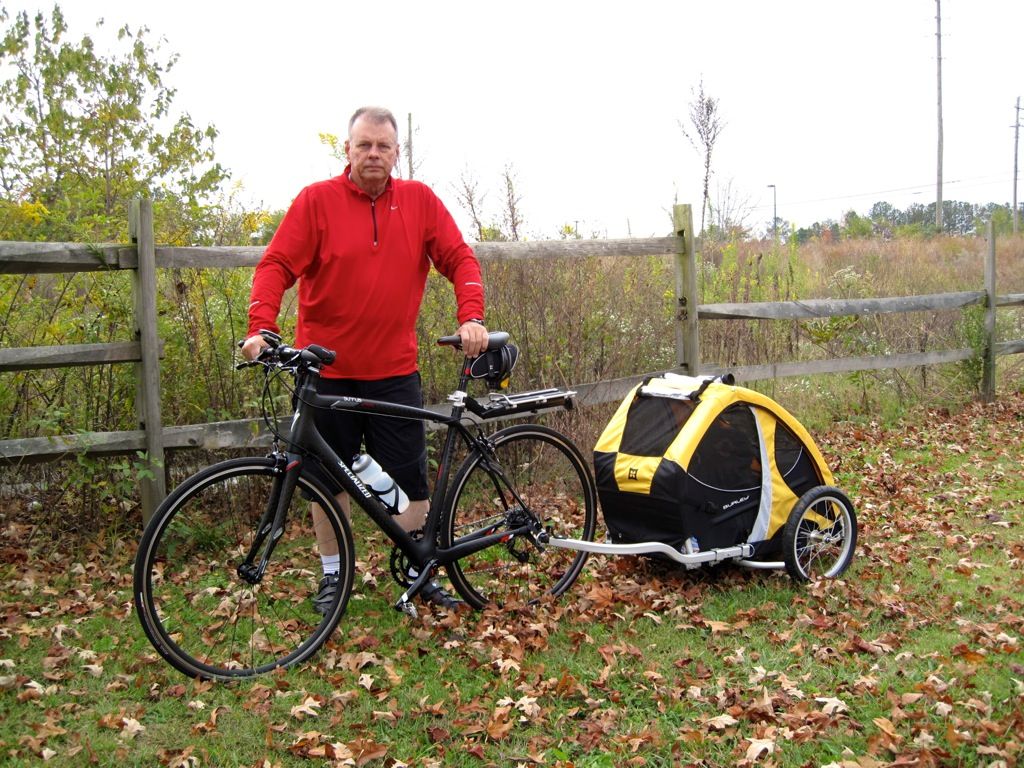 I had some initial concerns about whether my carbon-framed Sirrus Limited would pull it, but having covered a couple of hundred miles with it, I'm well pleased. The curved bar hitch and easy rolling wheels help it to track well and although you definitely know it's back there, it's a pleasure to use.
The front flap has durable mesh and a clear plastic windscreen that helps protect the dogs from cool air while underway.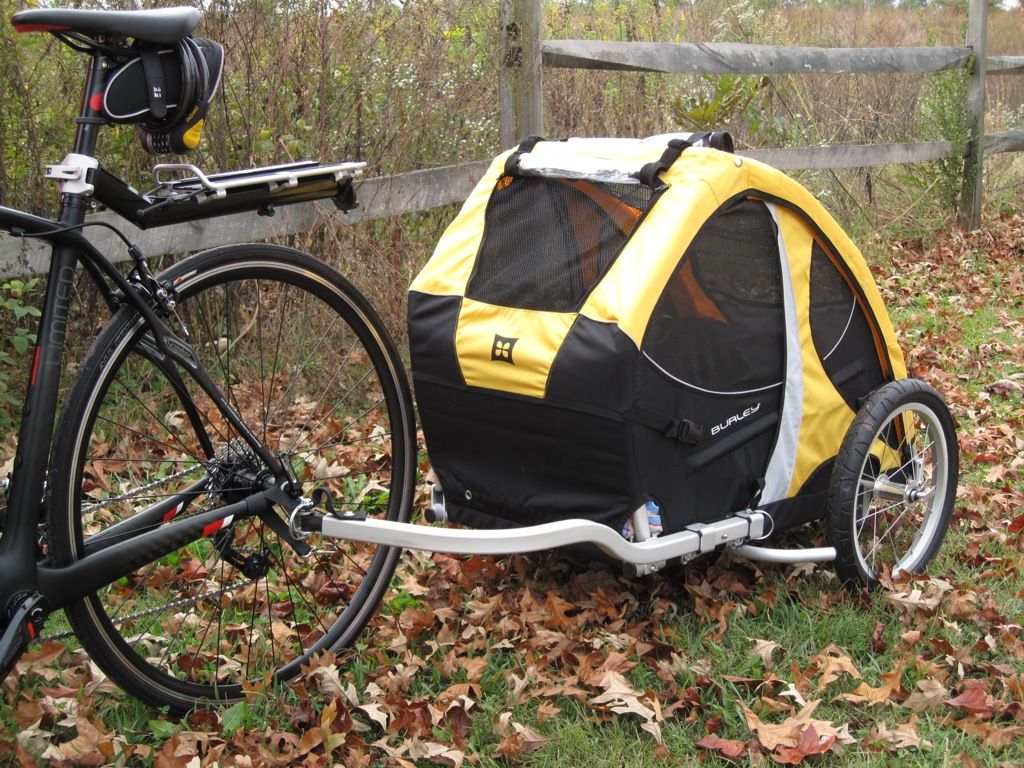 The rear flap is used to load the dogs, and also consists of the same durable mesh and a clear plastic windscreen. A nice feature is the "tailgate" that encourages the dogs to stay put and not jump out while preparing to get underway. We appreciate the pockets for holding leashes, water bottles, and snacks.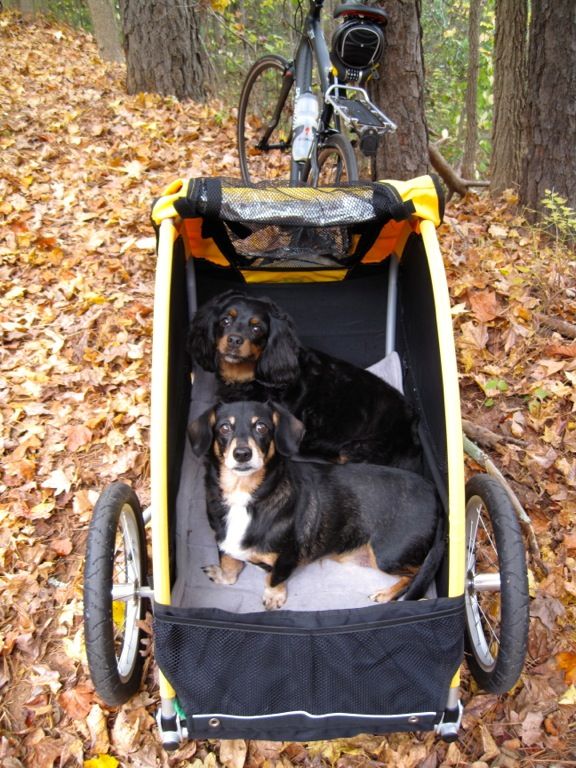 Our dogs seem to enjoy the trailer, although they will whine from time to time as other bicyclists pass by. I think they're just soliciting attention or a snack.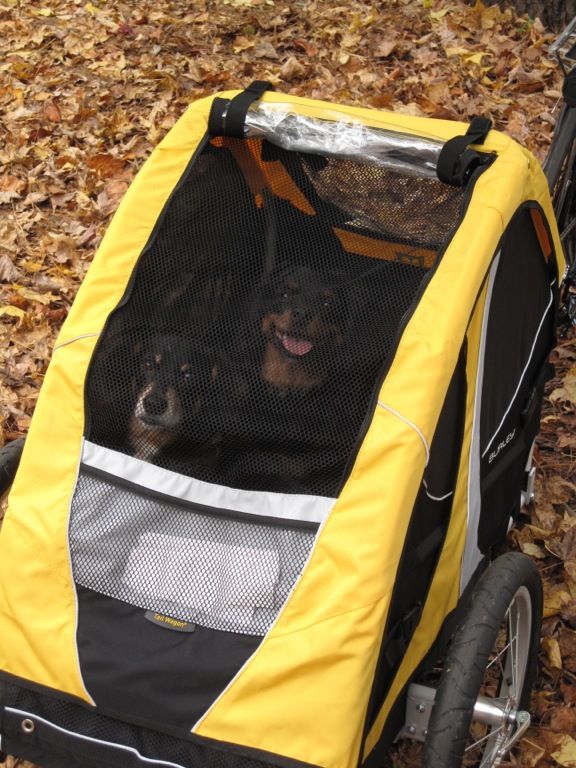 The trailer is well built with one inch aluminum framing and a sturdy floor. We added some additional interior padding to improve comfort and reduce vibration from the road. We're very happy with it, and the dogs seem pleased as well!

10-28-12, 12:22 PM
Senior Member
Join Date: Aug 2012
Location: Atlanta
Posts: 104
Bikes: Surly LHT, Pashley Guv'nor, Pilen Sport, and other stray pups
Mentioned: 0 Post(s)
Tagged: 0 Thread(s)
Quoted: 0 Post(s)
Likes: 0
Liked 0 Times in 0 Posts
Yes, it came with the handle, but no front wheels. I don't know if it was supposed to or not; I bought it on eBay as an overstock.
Thread
Thread Starter
Forum
Replies
Last Post

Posting Rules
You may not post new threads
You may not post replies
You may not post attachments
You may not edit your posts
---
HTML code is Off
---