Shorten Chain

11-23-12, 02:57 PM
Junior Member
Join Date: Nov 2012
Posts: 8
Mentioned: 0 Post(s)
Tagged: 0 Thread(s)
Quoted: 0 Post(s)
Shorten Chain
---
What is the best way to shorten a KMC Z410 1/8 chain?

THANKS

11-23-12, 03:05 PM
Senior Member
Join Date: Feb 2012
Location: Rochester, NY
Posts: 10,995
Bikes: Stewart S&S coupled sport tourer, Stewart Sunday light, Stewart Commuting, Stewart Touring, Co Motion Tandem, Stewart 3-Spd, Stewart Track, Fuji Finest, Raleigh Pro, Trek Cycle Cross, Mongoose tomac ATB, GT Bravado ATB, JCP Folder
Mentioned: 0 Post(s)
Tagged: 0 Thread(s)
Quoted: 1547 Post(s)

11-23-12, 03:06 PM
Senior Member
Join Date: Jul 2007
Posts: 230
Mentioned: 0 Post(s)
Tagged: 0 Thread(s)
Quoted: 0 Post(s)
This is what I use: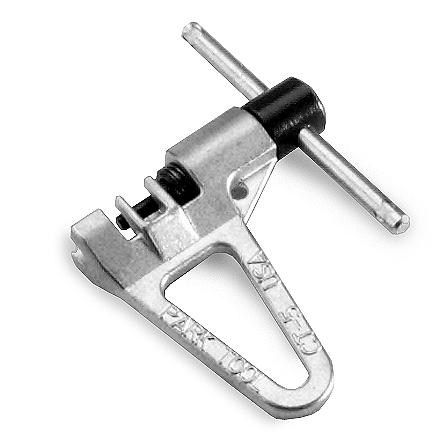 http://www.rei.com/product/544208/pa...act-chain-tool

11-23-12, 03:08 PM
Senior Member
Join Date: Apr 2009
Location: New Rochelle, NY
Posts: 36,049
Bikes: too many bikes from 1967 10s (5x2)Frejus to a Sumitomo Ti/Chorus aluminum 10s (10x2), plus one non-susp mtn bike I use as my commuter
Mentioned: 120 Post(s)
Tagged: 1 Thread(s)
Quoted: 4326 Post(s)
Since 1/8" chains (usually) come with connector links (master links), shortening is straightforward. Generally you use an inexpensive chain tool which you can find just about anywhere.

If you don't have a chain tool, but do have access to a bench grinder, you can grind the pins flush at both ends of the outer link then push them out with a hammer and punch. You only have to push far enough for the plate to fall free, then the link will fall out the other side of the chain. Replace this link with the connector on your bike and you're good to go.

Be sure to measure carefully, because it's a measure twice, cut once kind of a deal. But if you do mess up, you can resplice the chain with a second connector or a chain tool.
__________________
FB
Chain-L site
An ounce of diagnosis is worth a pound of cure
.
"Never argue with an idiot. He will only bring you down to his level and beat you with experience.", George Carlin
"One accurate measurement is worth a thousand expert opinions"
- Adm Grace Murray Hopper - USN
WARNING
, I'm from New York. Thin skinned people should maintain safe distance.

11-23-12, 03:17 PM
Mechanic/Tourist
Join Date: Apr 2007
Location: Syracuse, NY
Posts: 7,505
Bikes: 2008 Novara Randonee - love it. Previous bikes:Motobecane Mirage, 1972 Moto Grand Jubilee (my fave), Jackson Rake 16, 1983 C'dale ST500.
Mentioned: 10 Post(s)
Tagged: 0 Thread(s)
Quoted: 472 Post(s)
Cut to the same number of links as the old chain, not counting the master on either. You should have an inner link at each end once cut. You can always check by wrapping the chain around the chainwheel and installed wheel with the wheel roughly centered in the dropout slot before cutting. You should have roughly one link space between the two inner plates.

Once cut, install the chain on the bike and snap the master link on. Pull back on the wheel so that it is cantered in the frame with only very slight tension on the chain. Tighten the right nut snug but not all the way tight. Recenter the wheel and tighten the left nut slightly. If a coaster brake, attach the brake arm with the clamp on the stay loose to allow movement. Turn the cranks to find any tight places in the rotation. Always rotate the cranks forward during this process - use your hands rather than back-pedal to stop the wheel.

Place at the cranks at the tightest point and loosen the right nut just enough to release chain tension. Recenter the wheel with the left nut and crank around again. Fine tune till satisfied, tighten brake arm clamp.
__________________
There's no such thing as a routine repair.

Don't tell me what "should" be - either it is, it isn't, or do something about it.

If you think I'm being blunt take it as a compliment - if I thought you were too weak to handle the truth or a strong opinion I would not bother.

Please respect others by taking the time to post clearly so we can answer quickly. All lowercase and multiple typos makes for a hard read. Thanks!

11-24-12, 09:20 AM
Senior Member
Join Date: Feb 2001
Location: England
Posts: 12,952
Mentioned: 0 Post(s)
Tagged: 0 Thread(s)
Quoted: 17 Post(s)
Use the chainlength guide at parktools, they have several methods.
Use a chain tool. Since you only need to remove links, you can just punch them out using a hammer and nail on top of a vice, but a chaintool is a useful thing to have.
Practice on some old chain links first.

Count twice. Look at your master link and see how it works, they are all tool-free. After removing the master link, remove the excess links from one end but take care to leave the correct link type for rejoining the masterlink. Generally, the masterlink connects 2 innie links so don't leave an outy link at one end.

Posting Rules
You may not post new threads
You may not post replies
You may not post attachments
You may not edit your posts
---
HTML code is Off
---