Rusty, but irreplaceable, hardware

02-19-21, 12:55 PM
Senior Member
Join Date: Nov 2014
Location: Saratoga calif.
Posts: 866
Bikes: Miyata 610(66cm), GT Vantara Hybrid (64cm), Nishiki International (64cm), Peugeot rat rod (62 cm), Trek 800 Burning Man helicopter bike, Bob Jackson frame (to be restored?) plus a never ending stream of neglected waifs from the Bike exchange.
Mentioned: 13 Post(s)
Tagged: 0 Thread(s)
Quoted: 280 Post(s)
Likes: 0
I deal with rusty bright work all the time when I restore bikes for the bike exchange. My first step is to remove everything small enough to fit in a quart plastic freezer bag and immerse it in a large open mouth container half filled with white vinegar. I fill the bag with vinegar and drop it into the larger container . this makes retrieving everything later easier. then I put larger items like center pull brakes and the front derailleur in with them and let everything sit overnight. The rear derailleur goes in another container filled with mineral spirits. The next day I remove the bag and empty the vinegar back into the container then take the bag into the bathroom and fill with water to rinse, dump out the water, and take back to the shop where I set everything on clean paper towels. Next I will use brass or steel wire brushes to brush off the rust that the vinegar has loosened. finally, I will buff on a buffing wheel attached to a bench grinder. Often I will use a wire end brush chucked into my bench model drill press to remove rust from small parts. It doesn't seem to harm the finish and works on chrome and aluminum parts. It is also handy to clean the threads on bolts and remove crusted grease from the teeth of chainrings. In fact, I seem to find new things to use it on almost daily. For removing heavy scale I will sometimes use a cheap retractable blade box cutter laid flat on the surface to scrape it off , being careful to keep the blade flat to avoid gouging paint. another thing to keep around is Brasso , which works well as a metal cleaner, as well as Dupont No. 7 white polishing compound, which I use to deep clean the painted surfaces of scuffs and dirt that gets embedded in the paint.

02-19-21, 12:55 PM
Ride, Wrench, Swap, Race
Join Date: Jan 2010
Location: Northern California
Posts: 8,359
Bikes: Cheltenham-Pedersen racer, Boulder F/S Paris-Roubaix, Varsity racer, '52 Christophe, '62 Continental, '92 Merckx, '75 Limongi, '76 Presto, '72 Gitane SC, '71 Schwinn SS, etc.
Mentioned: 118 Post(s)
Tagged: 0 Thread(s)
Quoted: 1207 Post(s)
I'm surprised to see no mention of using a "unitized" abrasive de-burring wheel.
It's basically like highly-compressed ScotchBrite material (some are even made by 3M), which makes it like a very fine grinding wheel
that has a somewhat flexible surface
.
So choosing a medium grit grade does produce a polished finish in very short order on surfaces with all kinds of defects and/or residual platings.
The aggressiveness of the cut is determined by wheel diameter, wheel speed (mine runs at 1675rpm), grade of the abrasive, contact pressure and finally what type of metal.
It's hard enough that it won't round corners if the part surfaces are held flat to the wheel surface.
Again, at grinding-wheel speeds, these wheels work really fast. Used primarily for de-burring and for removing sharp corners on parts at certain stages of manufacturing, even post-machning and post-casting.
The only thing is that it does usually leave a bare metal surface, so better for drier climates and followed by a wipe of light oil or wax.
I've restored many a hex-bolt head with mine. Also useful for adjusting press-fit OD's and other very light machining purposes like massaging the tips and corners of cog teeth for enhanced shifting on troublesome drivetrains. I've even used this to "adjust" for an indexing mis-match, encouraging faster shifting in one direction or the other (typically
to or from
a larger or smaller cog), and also to make middle and big chainrings shift with more authority in either direction.
The level of surface finish is impressive coinsidering how fast that wheel does it's work, mangled quill stem hex heads bring 'em on!
Shown at the far end of my then-new bench here, attached to one end of a standard motor. Again these wheels are available in a very wide range of abrasive grits, so can produce high polish on any metal and do it fast.
---
Last edited by dddd; 02-19-21 at

04:12 PM

.

02-19-21, 03:57 PM

02-19-21, 04:03 PM
Senior Member
Join Date: Jun 2006
Posts: 17,256
Mentioned: 113 Post(s)
Tagged: 0 Thread(s)
Quoted: 2340 Post(s)
Originally Posted by
SJX426
@
repechage
- LOL a big clothes pin with a patent pending!
Much more force, the jaws are hard leather, like a heel, the wedge really can apply force.

02-19-21, 05:01 PM
Senior Member
Join Date: Oct 2020
Location: Sydney, Australia
Posts: 112
Bikes: Wilier Cento10Ndr, Giant Anthem 2, 1985 Gefsco, 1979 Gios Torino Super Record, 1983 Peugeot PFN10, Terry Dolan built Reynolds 753 Cougar for Malcolm Elliott
Mentioned: 1 Post(s)
Tagged: 0 Thread(s)
Quoted: 21 Post(s)
Originally Posted by
SJX426
I don't remember the process I used on this but it was a combination of wire wheel, OA and paint.
before:
P1020420
on Flickr
Pitting was not a plus!
P1030637
on Flickr
I had a good version of the hardware but didn't think this bike was the right one for it.
LC_HdSt_00
on Flickr
Nice job!

02-20-21, 05:22 AM
Evaporust has become my go-to solution most of the time, especially for small parts. I've never had it do any damage to chrome but it will removed zinc or cad plating. I just pulled two old forged chrome stems from a can of Evaporust, they were solid brown, my thought was that they were likely to far gone to save but I had a batch in a mayo jar for something else so I stuck both of them top down in the jar over night, to my surprise, both stems came out looking fantastic.

For rust removal by hand, I use a mix of bronze wool, brass tooth brushes, and steel wood. I only use steel wool with oil or soap.
For steel rims, I use hydroflouric acid wire wheel cleaner, along with a soapy piece of steel wool. It makes short work of rusty old chrome wheels but it can't be left on for long. I generally do it over a sink or old plastic tub with a garden hose at hand outdoors.
You just have to work quick, the acid will strip the chrome off of spoke nipples and eat the galvanizing off the spokes pretty fast if you leave it too long. I wet the wheel down, spray the chrome with acid, agitate it a bit with a brass brush or steel wood, and rinse. Usually it only takes one shot. Then they need to be dried and polished quickly to prevent them from flash rusting right away. I only use acid for wheels that are really bad.

If Evaporust was cheaper, I'd likely fill a large tub or parts washer full of it but it would cost far too much to fill a 50 gallon soak tank with the stuff. I've got a 55 gallon parts washer tank in the garage, it would be great to make use of that for something. It was originally used as a transmission dunk tank in a repair shop years ago. Now its a storage bin in my garage.
It would be nice to be able to soak a whole rim or handlebars though. When I checked last, the best price I found was $724 for a 55 gallon barrel of the stuff.
It would save a ton of original parts though.

02-20-21, 06:16 AM
Senior Member
Join Date: Feb 2020
Posts: 1,819
Mentioned: 29 Post(s)
Tagged: 0 Thread(s)
Quoted: 680 Post(s)
Likes: 0
I assume you are aware of the risks, but in case others are not...
"A serious HF burn at low concentration covering less than 2 percent of your body can kill you. Skin contact, even with diluted HF solutions (< 2 percent) will burn."
--https://www.carwashmag.com/home/article/hydrofluoric-acid-renewed-warnings/908f347a55405ce828a06f52baa5046b.html

02-20-21, 06:24 AM
Butted Hi-Tensile
Join Date: Sep 2020
Location: Oklahoma
Posts: 900
Bikes: Hi-Ten bike boomers, a Trek Domane and some projects
Mentioned: 1 Post(s)
Tagged: 0 Thread(s)
Quoted: 296 Post(s)
Originally Posted by
randyjawa
Chrome plating with surface rut, not pitted, can be easily dealt with with aluminum foil. I never use wire wool to attack chrome issues. Too hard, too oxidable and too bad about the first two.
Use a soft wire brass brush, to knock as much of the oxidized material as you can followed by a gentle rub with crumpled up aluminum foril...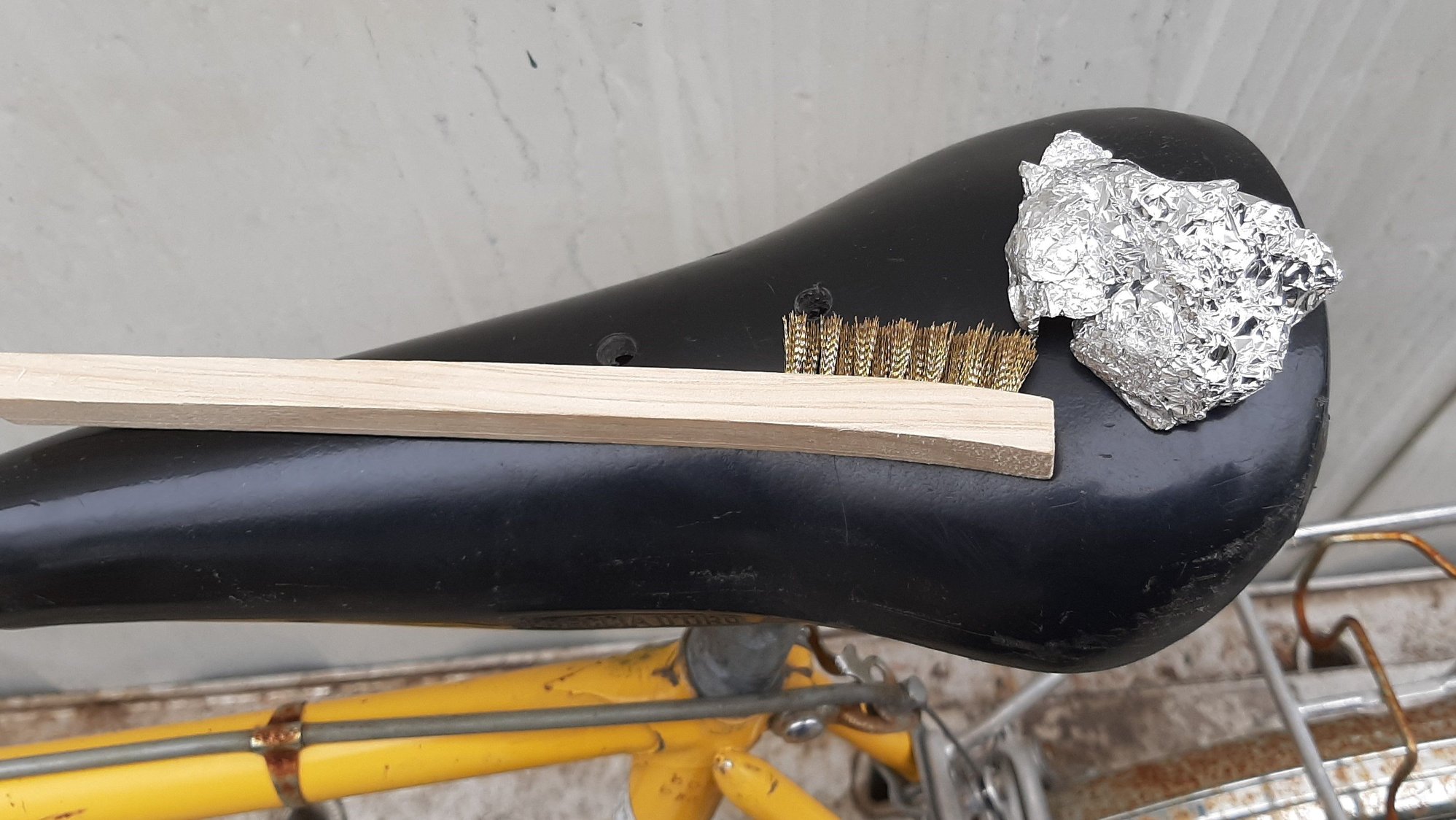 Soaking the bolts in Simple Green overnight will do them no harm, and then doing as randyjawa suggests will likely give you happy results.
__________________
"It is the unknown around the corner that turns my wheels." -- Heinz Stücke



02-20-21, 06:44 AM
Senior Member
Join Date: Aug 2018
Location: north NJ
Posts: 691
Bikes: Miyata 710, Univega Viva Sport, Centurion LeMans, Peugeot U09
Mentioned: 0 Post(s)
Tagged: 0 Thread(s)
Quoted: 212 Post(s)
I soak small parts in Rust-Oleum Rust Dissolver. Does a good job on chrome bits.

02-20-21, 10:46 AM
Senior Member
Join Date: Mar 2013
Location: Maryland
Posts: 3,809
Bikes: Lots of English 3-speeds, a couple of old road bikes, 3 mountain bikes, 1 hybrid, and a couple of mash-ups
Mentioned: 51 Post(s)
Tagged: 0 Thread(s)
Quoted: 828 Post(s)

02-20-21, 12:12 PM
PM me your cotters
Join Date: Jun 2015
Location: ATL
Posts: 3,838
Mentioned: 77 Post(s)
Tagged: 0 Thread(s)
Quoted: 1100 Post(s)
They're not irreplaceable. If you're in the US, I'd let all this go for $10 less than what I've got it listed over here because I don't have the arms to match.
T.A. Pro 3-arm chainrings and bolts 42/52
Mind you, I made no attempt to cleanup my hardware, but I think it's looking a helluva lot better than what I'm seeing in your pics

Personally, for little steel bits I keep a small 3" tall Ball jar around with Evaporust in it to soak stuff. I have a tea strainer screen inside to make removal easy.
I never, ever, ever recommend steel wool, if you have this in your shop to use on metal, replace it with bronze wool. Multiple reasons. Steel wool is made out of - guess what? - steel. Steel rusts, and as you use the product it creates steel dust, which will - guess what? - yep, rust on anything you don't realize it dusted onto. Steel wool is also more abrasive than bronze wool, but it's
not
necessarily more effective, bronze wool may take 25-50% more time rubbing, but it's going to cause significantly less abrasion, swirl marks etc. Bronze wool is no less available, and it doesn't leave steel dust or fragments laying around. When used with a lubricating agent, you can use bronze wool lightly on rusted paint, removing the rust but not the paint. The ultra-fine scratches can easily be buffed out with a fine buffing compound or simple automotive polishing agent.
For something that small, oxalic acid bath isn't worth it. For exterior surfaces, Naval Jelly is great and gets the job done in 10-minute application intervals.
The brass brushes are great also. I watch out for these 3-brush (nylon, brass, steel) to go on sale for $2-3 at the local auto parts stores and big online retailers. I have a coffee can full of them. They're great for "facing" stuff. Brass one is good on fork crowns and other flat chrome. Nylon one is great for clearing old dry wax out of lugs or used with solvent to clean old grease out of threads and races - I use blue painters tape on the handle of my "dry work" brushes so I don't mix the two purposes up. Steel I rarely ever use, because the wire wheel on my bench grinder has similar bristles and is faster. However, it's good for old bolts and getting rust out of holes in fasteners, cleaning up axle threads.
__________________
█████
█████
█████