Unique fixed gear hub

03-25-10, 06:42 PM
Youngman Grand
Join Date: Jan 2010
Location: Nova Scotia
Posts: 5,314
Bikes: roadsters, club bikes, fixed and classic
Mentioned: 80 Post(s)
Tagged: 0 Thread(s)
Quoted: 876 Post(s)
Unique fixed gear hub
---
I posted this on SS&FG as well looking for advice or ideas.

Looks like it's a pre-war British Hub Co. "Solo" drum brake hub. It's in great condition, 40 holes, British threads and lockring of course. 110 oln. It even looks like nickel plate but I can't tell for sure. Now what?

Lace it to a 700c Super Champion 58 and make a club bike? A Raleigh Sports EA3 ? An old roadster or delivery bike?

03-25-10, 07:13 PM
Senior Member
Join Date: Nov 2009
Location: E. Dundee, IL
Posts: 431
Bikes: 1954 Robin Hood, 1964 Dunelt, 1968 Raleigh Superbe, 1969 Robin Hood, 197? Gitane, 1973 Raleigh SuperCourse, 1981 Miyata 710, 1990 Miyata 600GT, 2007 Rivendell Bleriot
Mentioned: 0 Post(s)
Tagged: 0 Thread(s)
Quoted: 2 Post(s)
Looks dangerous. You should send it to me for proper disposal.


03-25-10, 08:27 PM
Freewheel Medic
Join Date: Oct 2005
Location: Ascending or Descending the NH Mountains NW of Concord!
Posts: 11,105
Bikes: Snazzy* Schwinns, Classy Cannondales, & a Lonely '83 Santana Tandem (* Ed.)
Mentioned: 80 Post(s)
Tagged: 0 Thread(s)
Quoted: 432 Post(s)
Go with 590mm wheels. That would be a more appropriate size, IMO. Great find!
__________________
Bob
Dreaming about riding in NH's summertime!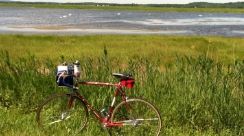 Visit my websites:
FreeWheelSpa.com
or
pastorbobnlnh.com

03-26-10, 07:19 AM
Wood
Join Date: Jun 2009
Location: Beaumont, Tx
Posts: 2,300
Bikes: Raleigh Sports: hers. Vianelli Professional & Bridgestone 300: mine
Mentioned: 1 Post(s)
Tagged: 0 Thread(s)
Quoted: 4 Post(s)
Is the sprocket side threaded where you can spin on a SS free wheel?
Nice vintage hub, needs to be on a 50's frame.

03-26-10, 09:33 AM
Youngman Grand
Join Date: Jan 2010
Location: Nova Scotia
Posts: 5,314
Bikes: roadsters, club bikes, fixed and classic
Mentioned: 80 Post(s)
Tagged: 0 Thread(s)
Quoted: 876 Post(s)
It's typical of other period fixed hubs as there's enough threads to catch a freewheel. I prefer fixed over single speeds though so I'm thinking a Sports frame will be be the way to go. Or a 48/49 Lenton Clubman. Hopefully the brake will work well enough to take the stress off my aging knees. I've had 3 scopes over the years and really don't want any more.
And a tandem is certainly a good possibility even though it's called a Solo.

03-26-10, 01:31 PM
Ride heavy metal.
Join Date: Sep 2009
Location: Teenage Wasteland, USA
Posts: 1,633
Bikes: '74 Raleigh LTD-3, '76 Motobecane Grand Jubile, '83 Fuji TSIII (customized commuter), '10 Mercier Kilo WT (fixed obsession), '83 Bianchi Alloro, '92 Bridgestone MB-1 (project), '83 Specialized Expedition (project), '79 Peugeot UO-8 (sold)
Mentioned: 0 Post(s)
Tagged: 0 Thread(s)
Quoted: 2 Post(s)
I know it's not the hub pictured below, but it has a lot in common with this "expander brake hub" from a
1939 Schwinn Paramount/Superior Catalogue
.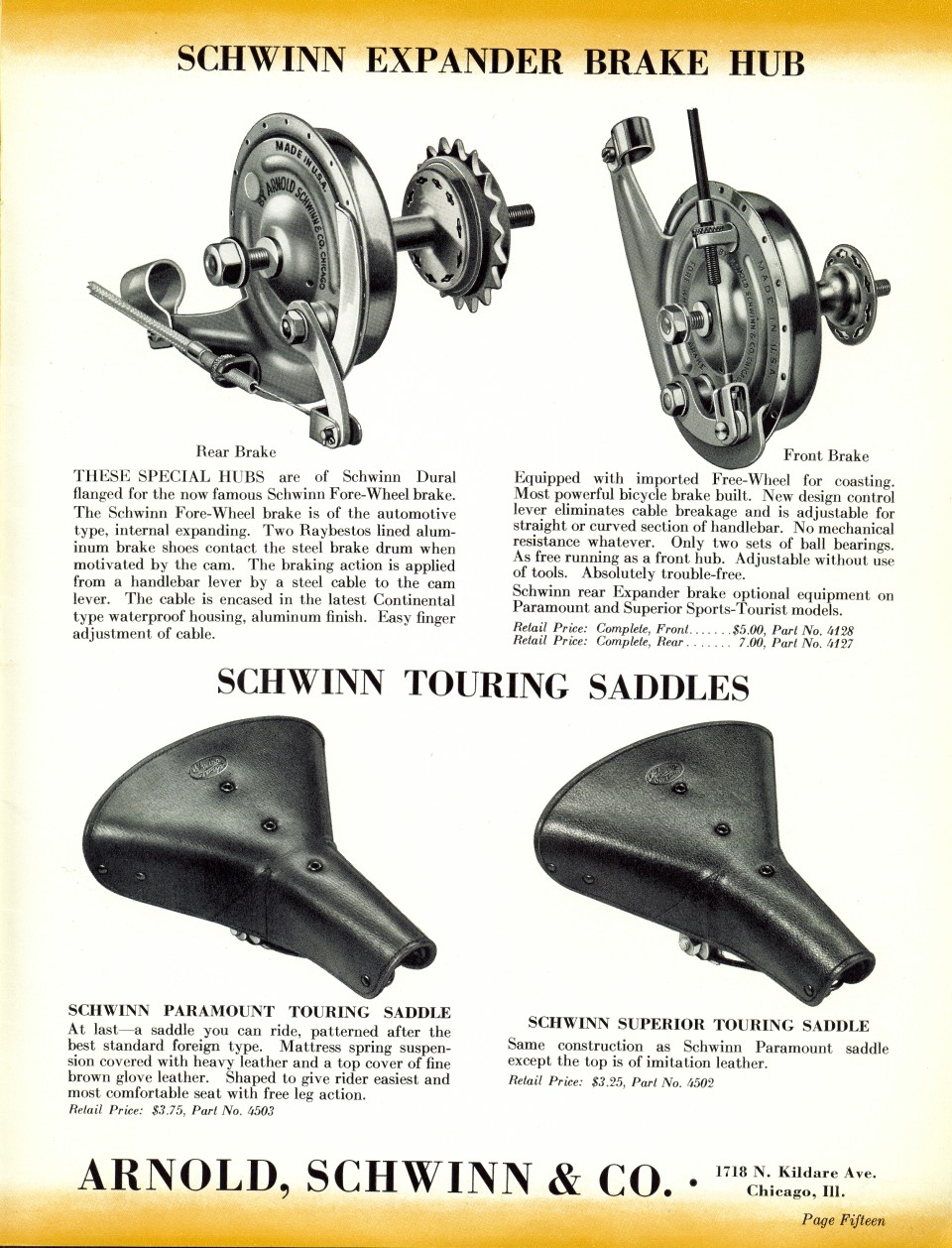 Very interesting, probably very old.
---
Last edited by Maddox; 03-26-10 at

01:35 PM

.

03-26-10, 06:12 PM
26 tpi nut.
Join Date: Mar 2008
Location: Rhode Island (an obscure suburb of Connecticut)
Posts: 5,703
Bikes: one of each
Mentioned: 5 Post(s)
Tagged: 0 Thread(s)
Quoted: 7 Post(s)