Which Frame Pump?

10-17-12, 08:29 AM
Senior Member
Join Date: Jul 2012
Location: Atlanta, GA
Posts: 179
Bikes: '84 Trek 660, '86 Schwinn Sprint
Mentioned: 0 Post(s)
Tagged: 0 Thread(s)
Quoted: 0 Post(s)
Which Frame Pump?
---
So I've only got to wrap the bars on my 1984 Trek 660 and now i'm looking at the pump peg on the head tube and thinking that i'd like to find a pump to fit there to carry on this bike.
Any suggestions as to which pumps work best on large vintage frames? I want something that looks good but is also practical. Can I have my cake and eat it too? So far i've only found one pump that appears to even be available in an XL size.
Topeak Road Master Blaster Frame Pump: XL; Fits 59-64cm; Usable Length 52-57cm
Without the dimmensions for the
park frame pump
i'm not sure if it's long enough to use without velcro straps
and just for giggles here's the picture of the bike in question. It has had changes since this picture but I won't take another photo shoot until it's complete. (well maybe a few lacking the frame pump)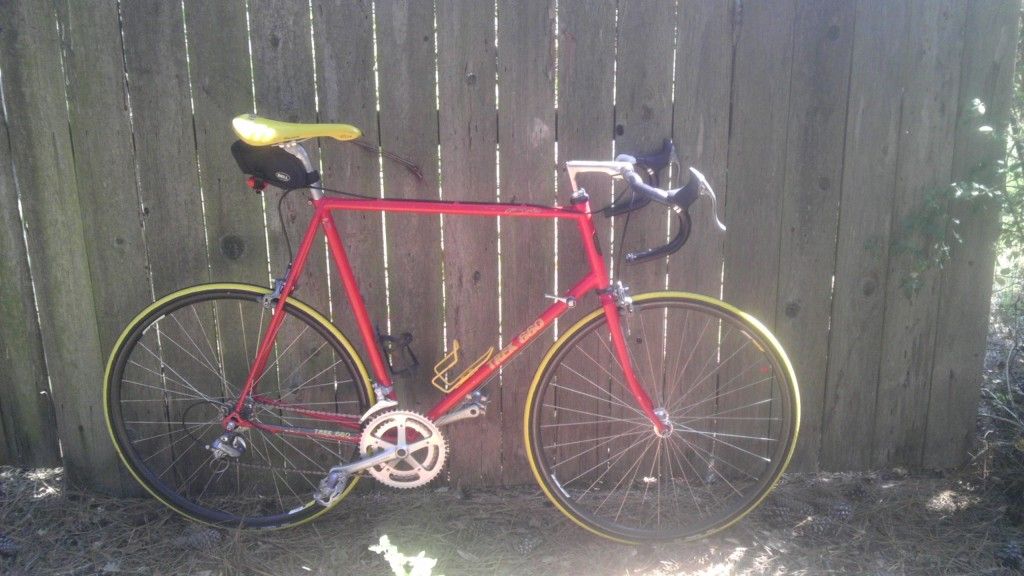 10-17-12, 08:32 AM
Fat Guy on a Little Bike
Join Date: Jun 2008
Location: Philadelphia, PA
Posts: 16,741
Bikes: Two wheeled ones
Mentioned: 35 Post(s)
Tagged: 0 Thread(s)
Quoted: 1021 Post(s)
A lot of people seem to really like the Lezynes....I've never used their frame pump, but I was not a fan of their floor pump. I'd keep it simple and shop eBay for a Silca...get a chrome one to avoid color match issues.

10-17-12, 09:13 AM
Senior Member
Join Date: Feb 2007
Location: Schwenksville, Pa
Posts: 2,505
Mentioned: 10 Post(s)
Tagged: 0 Thread(s)
Quoted: 143 Post(s)
I use the Topeak on my Salsa Casseroll, the top tube is 61cm c-t-c. I use the Velcro strap, but it probably is not needed because it it in pretty tight. Even if your Trek is a 25.5 frame it should fit without the straps.

10-17-12, 09:20 AM
Junior Member
Join Date: Apr 2012
Posts: 7
Mentioned: 0 Post(s)
Tagged: 0 Thread(s)
Quoted: 0 Post(s)
What distance are you needing to span? The Zefal HPX is available in a 51-55cm length, might be another option to look at.

10-17-12, 09:34 AM
ItBikeGirl
Join Date: Jun 2009
Location: Denver, CO
Posts: 6
Bikes: Scott,Spot,Yeti,GaryFisher
Mentioned: 0 Post(s)
Tagged: 0 Thread(s)
Quoted: 0 Post(s)
Love the Road Master Blaster. My frame doesn't need the XL but I can inflate my tires to 160, not that I would do this, but just in case.

10-17-12, 09:45 AM
Bianchi Goddess
Join Date: Apr 2009
Location: Fort Wayne, In
Posts: 25,436
Bikes: Too many to list here check my signature.
Mentioned: 84 Post(s)
Tagged: 2 Thread(s)
Quoted: 1157 Post(s)
If you want a pump you can count on and get good pressure, go with the Zefal HPx Classic.
You will likely need a umbrella or peg clamp to hold on that piece of scaffolding though.
http://www.ebay.com/itm/PUMP-ZEFAL-F...item5d35449a08
The body is still alloy, the thumblock really grabs the valve and the switch in the handle locks out the mounting spring so your not working against it on every stroke. 100psi is no problem for this pump.
Disclaimer, I do not have any of the new Classics but I have a few originals kicking around and they are great pumps. One even managed to fall off a bike, get runned over by the back wheel and still works.
__________________
Bianchis '87 Sport SX, '90 Proto, '90 Campione del Fausto Giamondi Specialisma Italiano Mundo, '91 Boarala 'cross, '93 Project 3, '86 Volpe, '97 Ti Megatube, , '90 something Vento 603,

Others but still loved,; '80 RIGI, '80 Batavus Professional, '87 Cornelo, '09 Motobecane SOLD, '?? Jane Doe (still on the drawing board), '90ish Haro Escape

10-17-12, 11:09 AM
Fast+Bulbous
Join Date: Dec 2008
Location: Across the street from Chicago
Posts: 4,358
Bikes: Battaglin Cromor, Ciocc Designer 84, Schwinn Superior 1981
Mentioned: 16 Post(s)
Tagged: 0 Thread(s)
Quoted: 288 Post(s)
+1 on the hpx. A have a couple, one of which is almost 20 years old. It's super beatup and dented, but still works like a champ.

A pump is definitely something where I would go with function over style.

10-17-12, 12:27 PM
Senior Member
Join Date: Jun 2008
Location: Antelope Valley, SoCal
Posts: 470
Bikes: 1975 Eisentraut Ltd, 1995 Trek 7000 MTB, 2007 Masi Vincere, 1974 Masi GC, 1981 Specialized Allez, 1984 Specialized Sequoia
Mentioned: 1 Post(s)
Tagged: 0 Thread(s)
Quoted: 0 Post(s)
+++1 on the Zefal HPX (4) pump in basic black. Works well, you can take out the Schrader valve guts if you just use Presta, and is very durable with the aluminum bode. Much more durable than the Silca plastic pumps. The Zefals develop good pressure in less strokes than just about any modern hand pump.

Jim

10-17-12, 03:23 PM
Death fork? Naaaah!!
Join Date: Nov 2005
Location: The other Maine, north of RT 2
Posts: 4,511
Bikes: '71 Gitane Super Corsa, '73 Atala Giro d'Italia, '73 Schwinn Super Sport, '76 Viscount Aerospace Pro, '81 Miyata 710, '84 Ross Signature 290s, '85 Miele Gara, '87 Miyata 512, '89 Centurion Ironman, many more
Mentioned: 28 Post(s)
Tagged: 0 Thread(s)
Quoted: 255 Post(s)
__________________
You know it's going to be a good day when the stem and seatpost come right out.

(looking for a picture and not seeing it? Thank the Photobucket fiasco.PM me and I'll link it up.)


Posting Rules
You may not post new threads
You may not post replies
You may not post attachments
You may not edit your posts
---
HTML code is Off
---