Freewheel compatibility

01-14-13, 07:16 PM
Junior Member
Join Date: Dec 2012
Posts: 8
Mentioned: 0 Post(s)
Tagged: 0 Thread(s)
Quoted: 0 Post(s)
Likes: 0
Liked 0 Times in 0 Posts
Freewheel compatibility
---
I have an '86 Cannondale equipped with Suntour Superbe Pro components -- but the seven speed freewheel is Sachs Maillard.

The 15t cog -- the one I generally use for straight and level -- is toast.

I see lots of suntour freewheels for sale on eBay and elsewhere. Can I assume that the hub threads that accomodate the freewheel are pretty much the same over most mainstream manufacturers?

Thanks!

01-14-13, 07:25 PM
aka Tom Reingold
Join Date: Jan 2009
Location: West Village, New York City
Posts: 37,091
Bikes: 1962 Rudge Sports, 1971 Raleigh Super Course, 1971 Raleigh Pro Track, 1973 Raleigh Twenty, 1974 Raleigh International, 1975 Viscount Fixie, 1982 McLean, 1996 Lemond (Ti), 2002 Burley Zydeco tandem
Mentioned: 420 Post(s)
Tagged: 0 Thread(s)
Quoted: 5391 Post(s)
Yes, but you're best off buying a new freewheel.

01-14-13, 09:28 PM
Freewheel Medic
I can probably help you out with a 15T Sachs cog. Go to my website and use the contact form to reach me.
__________________
Bob
Dreaming about riding in NH's summertime!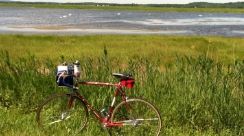 Visit my websites:
FreeWheelSpa.com
or
pastorbobnlnh.com
Thread
Thread Starter
Forum
Replies
Last Post
Electronics, Lighting, & Gadgets
Electronics, Lighting, & Gadgets

Posting Rules
You may not post new threads
You may not post replies
You may not post attachments
You may not edit your posts
---
HTML code is Off
---