Today's Ride

05-30-10, 06:21 PM
Senior Member
Join Date: Aug 2006
Location: Central Louisiana
Posts: 3,055
Mentioned: 0 Post(s)
Tagged: 0 Thread(s)
Quoted: 39 Post(s)
Likes: 0
Today's Ride
---
Today's ride was one with a purpose, a purpose greater than miles, smiles, fitness, speed, stress relief, training, or recovery.
We rode to spend some time recognizing some folks who made this country and my freedom to ride in it possible.
Here's where those folks are.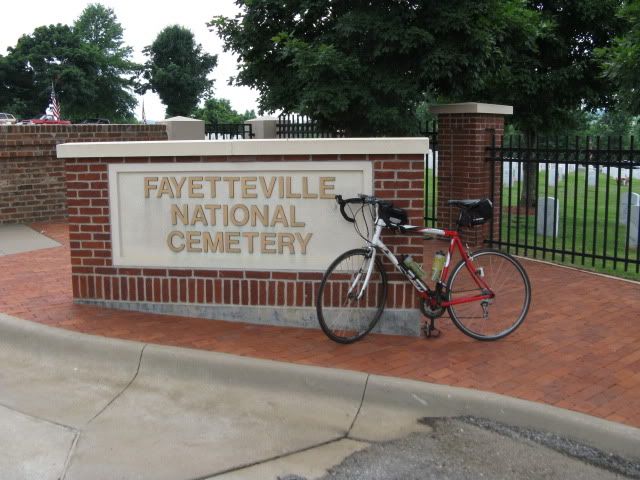 To the best of my knowledge, I'm not acquainted with or related to any one of these folks, but I owe them a debt of gratitude.
This major served in three wars. I'm sure she helped put wounded GI's back together physically and emotionally. She may have been a cyclist or may have helped a cyclist at some point in her long career.
This fellow was the recipient of a Purple Heart in Vietnam. He suffered some sort of wound in the service of his country. Perhaps the Major was a part of the team that treated his wounds.
It was interesting to see this marker. He was a merchant mariner during World War II. Though he didn't wear a government-issued uniform, he served in a vital role.
SFC Craft was a hero, having received the Medal of Honor. He served in two wars.
We'll never know the identity of this soldier, but he has a place of honor with the others. He gave everything that he had to give, and we need to remember that.
Some of these folks or their neighbors at their final resting place may have at one time or another been fellow cyclists. I suspect that at least a few out there shared our hobby with us. All of them served their country honorably. Some died in peace time, and others died horrific deaths during conflict.
They've made this place possible for us, and we shouldn't forget what they did.
---
Last edited by doctor j; 05-30-10 at

06:24 PM

.

05-30-10, 08:04 PM
Senior Member
Join Date: Apr 2010
Location: Doraville, GA
Posts: 105
Bikes: 1995 Raleigh, 1986 Nishiki Olympic 12
Mentioned: 0 Post(s)
Tagged: 0 Thread(s)
Quoted: 0 Post(s)
Likes: 0
Liked 0 Times in 0 Posts
and in the morning when the sun comes up we shall remember them.
May they sleep with the Angels.

05-30-10, 08:22 PM
gone ride'n
Join Date: Aug 2007
Location: Upstate NY
Posts: 4,051
Bikes: Simoncini, Gary Fisher, Specialized Tarmac
Mentioned: 0 Post(s)
Tagged: 0 Thread(s)
Quoted: 0 Post(s)
Likes: 0
Liked 0 Times in 0 Posts
Very nice. Today I did my memorial day ride too - up the veterans Memorial Highway in Wilmington NY.

05-30-10, 10:32 PM
Lincoln, CA
Join Date: Sep 2004
Location: Lincoln, CA
Posts: 2,229
Bikes: 94 Giant ATX 760, 2001 Biachi Eros, 2005 Giant OCR2 Composite +
Mentioned: 0 Post(s)
Tagged: 0 Thread(s)
Quoted: 0 Post(s)
Likes: 0
Liked 0 Times in 0 Posts
I have lived in this community about 2 1/2 years. As I look up and down my street, virtually every house is flying the American Flag. I remember a number of years ago, a Rotary Exchange student in our club was asked what had surprised him about America. He said "the level of patriotism" as evidenced by the American flags he saw everywhere.
__________________
Truth is stranger than reality.
'96 Giant ATX 760 MTB
'01 Bianchi Eros
'05 Giant OCR Llimited Carbon Fiber + upgrades
Thread
Thread Starter
Forum
Replies
Last Post
Clydesdales/Athenas (200+ lb / 91+ kg)

Posting Rules
You may not post new threads
You may not post replies
You may not post attachments
You may not edit your posts
---
HTML code is Off
---