Show me your riser handlebars!

05-12-17, 05:54 PM
Senior Member
Join Date: Apr 2017
Location: Los Angeles basin
Posts: 161
Bikes: His & Hers 1966 Schwinn Collegiates (Mom and Dad), 3 1998 GT Palomars (The Twins and the Red Headed Step)
Mentioned: 2 Post(s)
Tagged: 0 Thread(s)
Quoted: 63 Post(s)
Likes: 0
Liked 0 Times in 0 Posts
Show me your riser handlebars!
---
Bonus points for both brand and specs (stem size, length, rise, and sweep). I'll start:
Wald 808 chromed steel (not a current model). 25.4mm stem, 660mm long, 50mm rise, 5 degrees of sweep.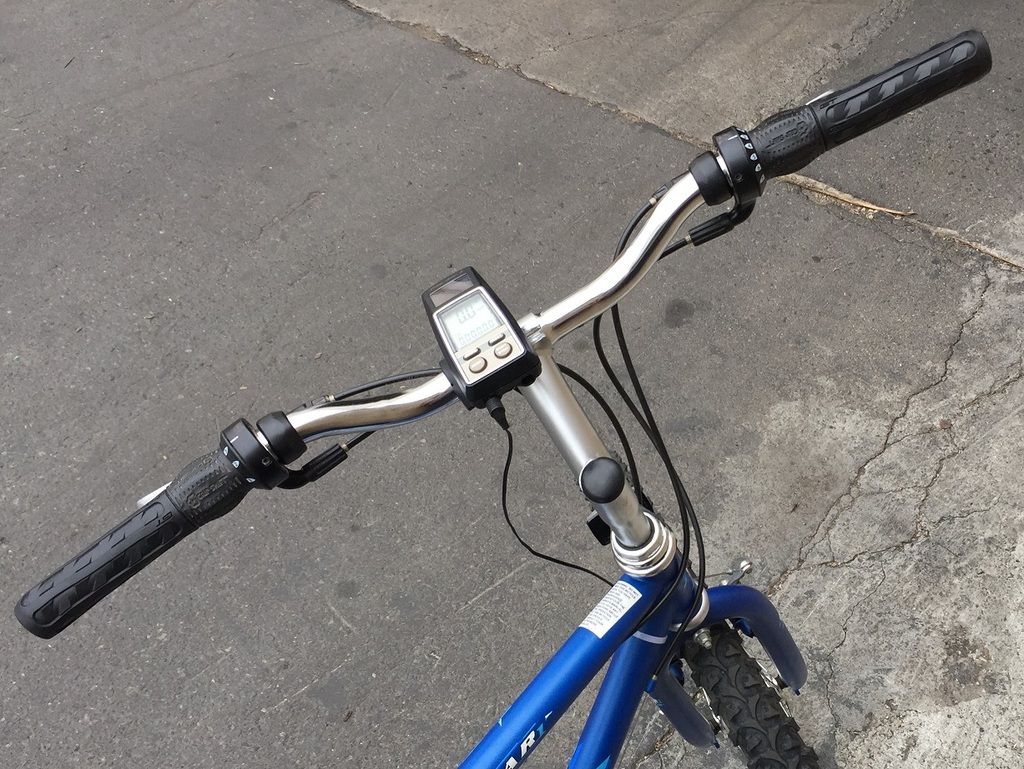 ---
Last edited by mwalsh5757; 05-15-17 at

03:12 PM

.

05-12-17, 08:28 PM
Senior Member
Join Date: Jan 2017
Location: Rochester ,NY
Posts: 103
Bikes: Mongoose Reform Sport
Mentioned: 1 Post(s)
Tagged: 0 Thread(s)
Quoted: 34 Post(s)
Likes: 0
Liked 0 Times in 0 Posts

05-12-17, 10:23 PM
Me duelen las nalgas
Join Date: Aug 2015
Location: Texas
Posts: 11,821
Bikes: Centurion Ironman, Trek 5900, Univega Via Carisma, Globe Carmel
Mentioned: 185 Post(s)
Tagged: 0 Thread(s)
Quoted: 3761 Post(s)
Riser bar swiped from my Globe Carmel comfort hybrid. The original flat bar (actually slightly arced) on this Univega was too low and far forward for me at the time. The riser bar added just enough height and reduced reach just slightly to make it much more enjoyable for longer rides. I've ridden it this way since last September. Every time I'm tempted to try a lower flat arced bar or albatross bars, I ride this bike again and think, nah, it's perfect as-is. Get a different bike instead.
Globe's specs for the riser bar say: 25.4mm diameter, 40mm rise (1-9/16"), 620mm wide (a bit too wide for my taste), 15 degree back sweep, 5 degree rise.
With riser bar...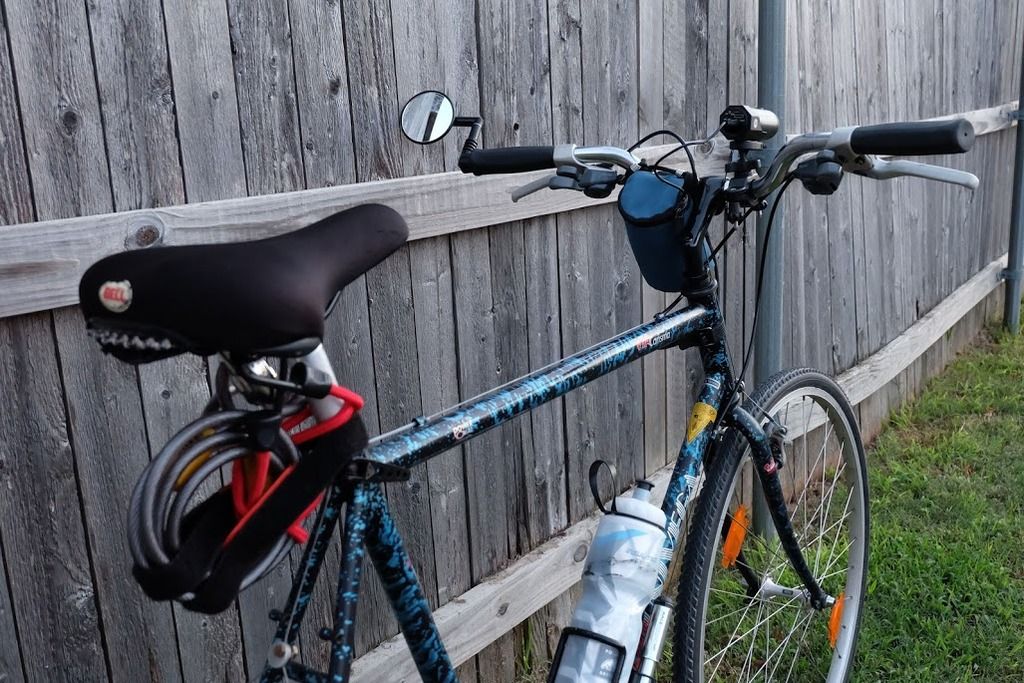 With original flat bar...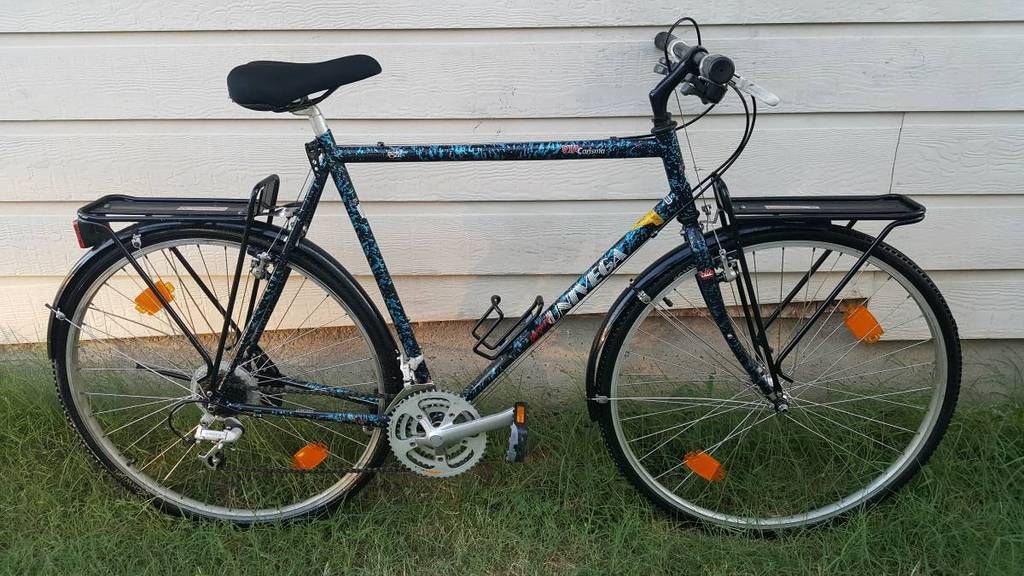 Here's the Globe Carmel with the flat bar swapped from the Univega. Much better now. Increased the reach just a bit and lowered the bar just enough to improve pedaling efficiency while it's still a cushy comfortable ride. When this photo was taken the slight arc was aimed forward, away from the saddle. After falling and crunching my ribs in February I rotated the arc back toward me for comfort, but need to put it back where it was for better efficiency. You wouldn't think that slight arc would matter but it does.
Globe Carmel with the original riser bar in original position. I rode it this way for almost a year before I was physically ready for a more challenging and efficient ride (old back and neck injury with permanent C2 damage)...
I flipped the riser bar on the Globe for awhile. The reach and height were fine but the downward angle was hard on my wrists...

05-13-17, 03:15 AM
Interocitor Command
Sweep, rise, stem info, all unknown. This was taken during a complete down to the frame overhaul. The LX shifter pods are an upgrade.

05-13-17, 05:40 AM
Senior Member
Join Date: Aug 2007
Location: Toronto, Ontario
Posts: 2,287
Bikes: Custom Winter Cycles flat bar road bike, Trek Domane SL6, Rivendell Sam Hillborne, Brompton S/M3L (modified)
Mentioned: 10 Post(s)
Tagged: 0 Thread(s)
Quoted: 468 Post(s)
Tioga 60 mm riser on my Brompton
Nitto Albatross 50 mm rise, 555 mm wide on my Rivendell
FSA Metropolis 32 mm rise, 620 mm width, on my Trek Portland (now gone).
MAP/Ahearne bar 25 mm rise, 610mm width. For a future bike. (Top silver bar)
---
Last edited by blakcloud; 07-15-17 at

02:02 PM

. Reason: Fixed links.

05-13-17, 11:16 AM
Senior Member
Nitto All rounder bars...490mm (nice and narrow). I don't use the rise much, more the sweep which I angle down. 65mm rise.
---
Last edited by linberl; 05-13-17 at

11:21 AM

.

05-15-17, 12:35 AM
Calamari Marionette Ph.D
Husky Industrial 351-210.
610mm wide, 115mm rise, a LOT of sweep, Kalloy stem, 25.4 clamp, 100mm extension, 28 degrees, Kraton 1970s glitter grips, Brooks tape.
$65 tape on $10.86 bars.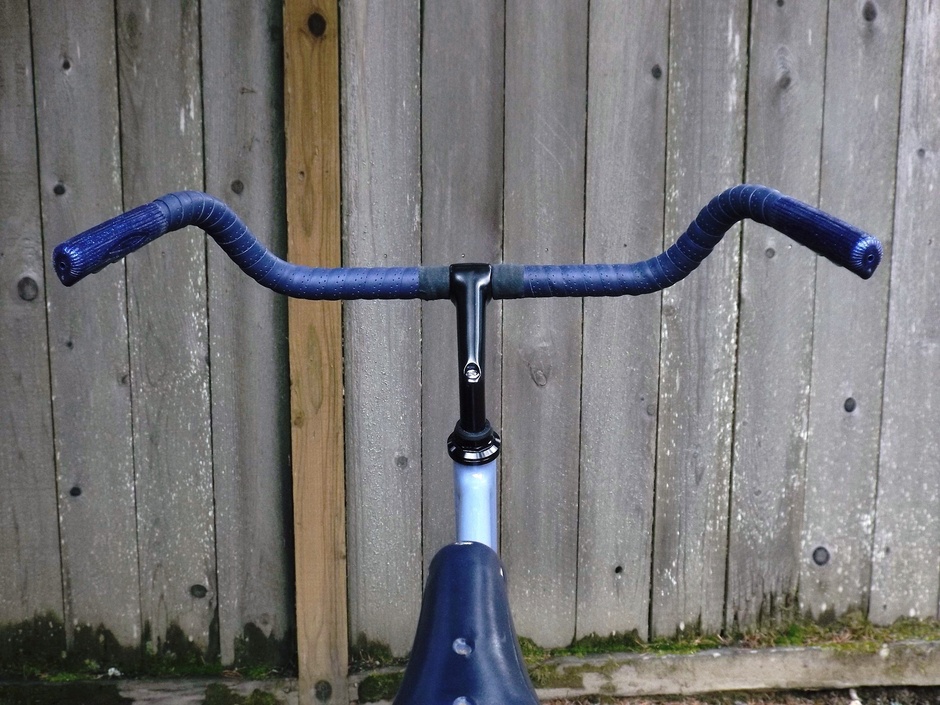 Thread
Thread Starter
Forum
Replies
Last Post
General Cycling Discussion
Long Distance Competition/Ultracycling, Randonneuring and Endurance Cycling

Posting Rules
You may not post new threads
You may not post replies
You may not post attachments
You may not edit your posts
---
HTML code is Off
---