Nice Rack!

01-08-07, 02:49 PM
Walks with a limp
Join Date: Nov 2006
Location: Indy, IN
Posts: 1,346
Mentioned: 0 Post(s)
Tagged: 0 Thread(s)
Quoted: 4 Post(s)
Likes: 0
Liked 0 Times in 0 Posts
Nice Rack!
---
I'm looking at a few racks, mostly front racks. What do you have, do you like it and why? I've seen Gorgeous examples from Ira Ryan, Vanilla, and Nitto, and then CETMA, appealing in its no BS way. I'm stuck somewhere between a classic looking Porteur style, a narrower (but will it be good for anything), or a Wald basket that I already own (silly looking, but functional.). Thanks for your input.

01-08-07, 03:06 PM
Perineal Pressurized
Join Date: Oct 2003
Location: In Ebritated
Posts: 6,555
Mentioned: 0 Post(s)
Tagged: 1 Thread(s)
Quoted: 1 Post(s)
Likes: 0
Liked 0 Times in 0 Posts
I've got one of the Nitto front racks coupled with a Wald basket on my XO-3
Similar to this (don't have a current pic, this was my inspiration)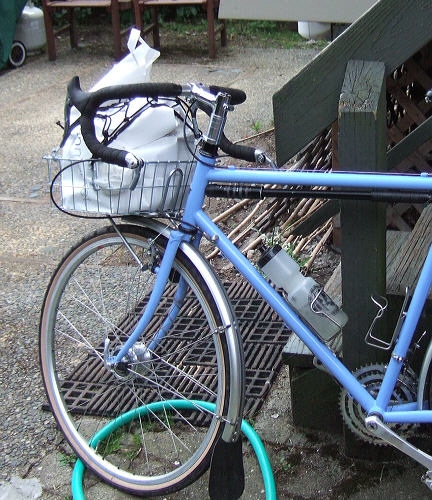 __________________
This is Africa, 1943. War spits out its violence overhead and the sandy graveyard swallows it up. Her name is King Nine, B-25, medium bomber, Twelfth Air Force. On a hot, still morning she took off from Tunisia to bomb the southern tip of Italy. An errant piece of flak tore a hole in a wing tank and, like a wounded bird, this is where she landed, not to return on this day, or any other day.