I'm thinking of buying a Hebie Chainglider and I'm curious to hear about others experiences: + positive and - negative
I have a 2011 Novara Transfer which comes with a chain guard. Here's what it looks like: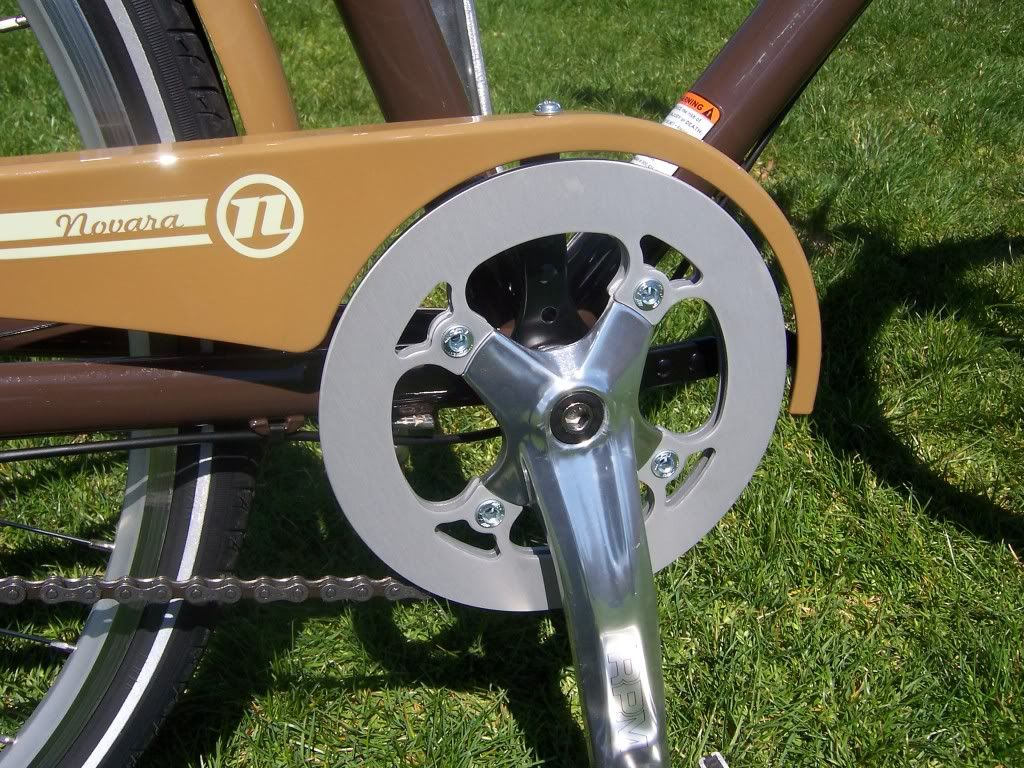 But if the friction of a Hebie isn't noticeable, I'd prefer the better chain protection/lower maintenance of it over my stock chainguard.
My bike comes with a 42T chainring and 21T rear cog. But I'm seeing this page:
http://www.bikefront.com/products/ch...glider-for-44T
say a 44T model is designed for an 18 to 20T rear cog.
And this page:
http://www.bikefront.com/products/ch...glider-for-38T
says a 38T model is designed for an 18-22T rear cog. So what is the deal? Why would the smaller 38T chainring work with 21T cog, but the 44T only goes up to a 20T cog?
I do see on this page:
https://www.velorution.biz/shop/checkout/
that a 42T model is available which will work with an 18 - 21T cog. But I'm in the US. Would be nice to have this model available in the States. I guess this is the one I'll have to go with.
Here is an informative an positive review of the chainglider:
http://cyclea2b.blogspot.com/2010/10...us-part-7.html
One more question I have is: Will this work on top of my bash guard? I'd prefer to keep the bash guard on which helps protect the chainring as well as act as a minimal chain guard.
Both my current chainguard/bashguard and the Hebie will keep my pants leg from getting caught. I'm concerned here that the benefit of a cleaner lower-maintenance chain via the Hebie, might come at the cost of a more vulnerable chainring. But I do ride only on city street and fairly carefully as a 30-something male. So maybe the chainring isn't that vulnerable. Aesthetically I probably would prefer my stock setup to the way the Hebie would look on the bike. So maybe I should forget about it. But still, I had dreamt of a bike with a full chaincase for a long time. I finally settled on the Transfer in March because it had most everything I wanted at a much lower price then all my other options. Of course, even with a perfect fit, a Hebie won't provide quite the protection of a full chaincase so I dunno. You can see the curvature of my crank arms disallows the fitting of some kinds of aftermarket chaincases such as this one:
http://www.dutchbikebits.com/index.p...product_id=140
The hole for the crank arm would be way too small. So maybe some of you can help me sort out some of these doubts, and concerns I have.
Maybe I'm crazy to mess with the overall look of the bike: