Cleaning up a trail?
---
So, I found a cool trail that runs alongside a paved path I'd ridden for a while. I rode a short stretch before, but decided to tackled the full trail this morning. Parts of it are quite nice (see below).
Other parts, however... completely unrideable. I don't just mean because of huge fallen trees blocking the path (which there were several, included mammoth of a tree that was even difficult walking over). There was one point a bunch of vines hanging down caught my handlebars and almost threw me off the bike. Plus one section was very treacherous just to walk past--a huge tree fell and took the ground with it. The path was about 2" wide here, with a steep fall into the river on the right and a steep cliff hugging it on the left. I was constantly getting smashed with overgrown vines and weeds and bushes.
Now, I'm a novice to mountain biking and this is actually my first "technical trail" (I haven't made it to a few local trails yet due to weather--want to wait for a dry week). Is what I'm describing normal for trails like this? Or is this an old, neglected trail not really meant for riding? Some spots seem much more cleared/ridden then other sections. Or is it just too early in the season that this trail hasn't been cleared yet? Lastly, would I be wrong in trying to clear it a bit myself? Would I need to contact the borough that owns the paved trail/park beside this path? Or (as I mentioned), is this just how "technical trails" are supposed to be?
I didn't think to take pictures of the rough spots, but here's a nice spot. The first small section is like this. Then it gets really, really rough.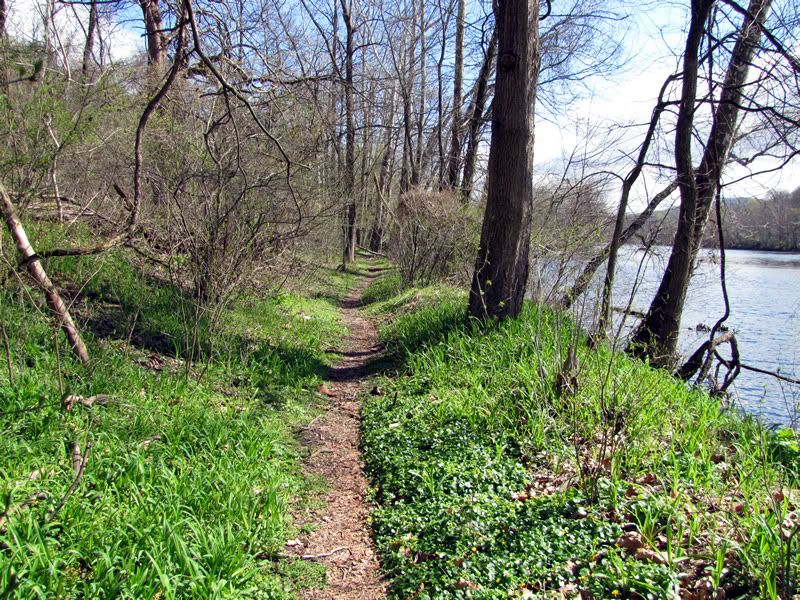 ---
Last edited by spohn; 04-02-12 at

10:50 PM

.