Searching for a helmet

10-01-18, 06:52 PM
Senior Member
Join Date: Jul 2016
Location: East Carolina, USA
Posts: 83
Bikes: Trek 520, Bianchi Volpe and too many more to name
Mentioned: 1 Post(s)
Tagged: 0 Thread(s)
Quoted: 17 Post(s)
Likes: 0
Searching for a helmet
---
Yesterday my favorite touring helmet bit the dust. Nothing dramatic, just one of the plastic straps which make up the inside liner of the helmet snapped beyond repair. Now the helmet doesn't fit as it should and I know it has to be replaced. I had that helmet a long time and got plenty of use out of it, so no complaints from me.
My helmet was a Bell Citi and I absolutely loved it. It was lightweight with a simple rounded shape. There were just enough vents to allow sufficient airflow but still plenty of smooth surface area which I find aesthetically pleasing and less likely to snag should I hit the road. It was one size fits all with an easily adjustable band I could manipulate depending on whether I was wearing a cap beneath it or not. The bill was high enough not to impede my vision and was great for keeping rain out of my eyes. The helmet was a pleasant, basic yellow for added visibility but not a shouting day glow or neon. It was marketed primarily as a commuter helmet but was also great for touring. Unfortunately it has long been phased out otherwise I would simply go get another one.
So today I go out and shop for a new helmet. As I'm visiting bike shops and REI, one question kept popping up in my mind......."When did bicycle helmets get so ugly?" It seems like every helmet was designed to appeal to either the competitive racing cyclist, the gonzo mountain biker or the skateboarding hipster. The vast majority of helmets came only in black, silver or white with a few neon yellows or dark matt finishes. The helmets were literally covered with vents and pointy edges everywhere. There was nothing I found remotely pleasing to my admittedly simple and probably retrogrouch tastes.
I thought I would check with this forum for helmet suggestions. Perhaps you are wearing one that you really like and would recommend. My ideal helmet would be:
Simple, rounded shape
Generally a solid color (yellow, orange, etc. Bright but not neon)
Mostly smooth surface
Some venting
Detachable bill
Easily adjustable headband for universal fitting
Thanks in advance for any suggestions.

10-01-18, 07:47 PM
Senior Member
Join Date: Aug 2010
Location: Madison, WI
Posts: 8,343
Bikes: 1961 Ideor, 1994 Bridgestone MB-6, 2006 Airnimal Joey, 2009 Thorn Sherpa, 2013 Thorn Nomad MkII, 2015 VO Pass Hunter, 2017 Lynskey Backroad, 2017 Raleigh Gran Prix, Perfekt 3 Speed -age unknown, 1980s Bianchi Mixte on a trainer. Others are now gone.
Mentioned: 38 Post(s)
Tagged: 0 Thread(s)
Quoted: 2302 Post(s)
Likes: 0

10-01-18, 07:53 PM
Philosopher of Bicycling
I think the Specialized helmet is worth a look. Mine, bought two months ago, is silver or gray with a black detachable bill. It fits me very well and was $40 at a bike shop. They might come in white.
---
Last edited by DeadGrandpa; 10-01-18 at

07:56 PM

.

10-02-18, 05:53 AM
Senior Member
Join Date: Apr 2016
Posts: 54
Mentioned: 1 Post(s)
Tagged: 0 Thread(s)
Quoted: 14 Post(s)
Likes: 0
Liked 0 Times in 0 Posts
MEC Skyway
---
I don't know if you can order one of these outside of Canada, but I have one and it seems to fit your requirements:
https://www.mec.ca/en/product/5057-5...Cycling-Helmet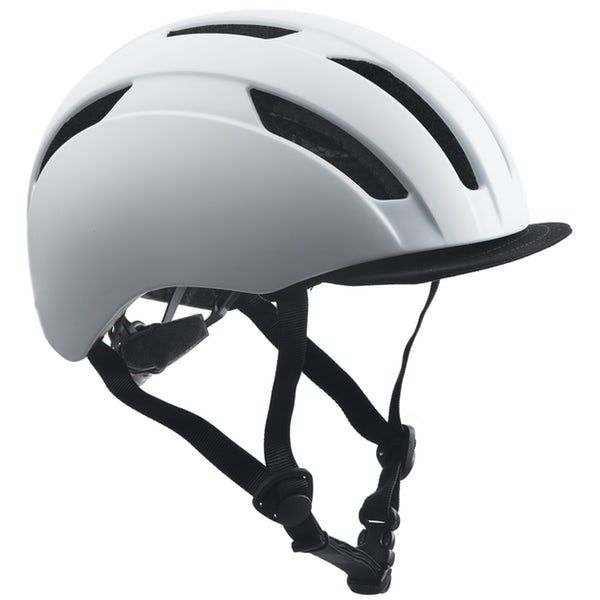 10-02-18, 07:22 AM
Palmer
Join Date: Mar 2007
Location: Parts Unknown
Posts: 6,578
Bikes: 1980 Mike Melton, 1982 Stumpjumper, 1982 Santana, 1984 Alex Moulton AM, 2008 BikeFriday tikit T-♾, 2010 Dawes Briercliffe, 2017 Dahon Curl i8, 2019 Surly ˝DT14, 2021 Motobecane Turino 1x12
Mentioned: 28 Post(s)
Tagged: 0 Thread(s)
Quoted: 837 Post(s)
And do you want an egg in your beer?

Check out:
Bell Muni - yellow
Bell Hub - white
Bell Stoker - green
Bell 4Forty - red
Bell Sixer - white
Giro Revel - orange
Giro Register - white
Giro Chronicle - blue
Louis Garneau Raid - blue, green
Louis Garneau Raid MIPS - orange
Specialized Ambush Comp - white
Specialized Tactic II MIPS - red

10-02-18, 07:38 AM
Mentally Derailleured
Join Date: Sep 2016
Location: New Hampshire
Posts: 2,353
Bikes: Bilenky Tourlite, Surly Ogre
Mentioned: 18 Post(s)
Tagged: 0 Thread(s)
Quoted: 1225 Post(s)
I love my Nutcase helmet, @
redbagsrambler
Its comfy. It has a nice magnetic strap which does not catch my beard. It has a detachable bill. Comes in as wild a theme as you can imagine or plain and simple. I chose matte black.
__________________
Remember, its just a beer commercial. That kind of happiness may not be obtainable.


10-05-18, 12:58 PM
Bern
is another helmet company , the Ski Helmets are good,
When used on the bicycle when it gets cold out..

10-05-18, 06:20 PM
Senior Member
It's so important that the helmet suits the bike. My wife hates it when I wear my old M/C novelty helmet and Mechanic gloves....LOL

10-05-18, 10:51 PM
Senior Member
Join Date: Jun 2015
Location: Down Under
Posts: 1,918
Bikes: A steel framed 26" off road tourer from a manufacturer who thinks they are cool. Giant Anthem. Trek 720 Multiroad pub bike. 10 kids bikes all under 20". Assorted waifs and unfinished projects.
Mentioned: 10 Post(s)
Tagged: 0 Thread(s)
Quoted: 848 Post(s)

10-06-18, 03:04 PM
Senior Member
Join Date: Oct 2002
Location: No certain place. Catch me when you can.
Posts: 347
Bikes: I'm not a guy - brand doesn't matter.
Mentioned: 2 Post(s)
Tagged: 0 Thread(s)
Quoted: 166 Post(s)
Likes: 0
Liked 0 Times in 0 Posts
Actually, about 3 years ago, I think, when I went to buy a helmet (hadn't in years), I became quite envious of kids! There was one helmet I REALLY wanted which was white and you could write on it like a dry board. I also liked the lady bug one.

And hey, nothing says rebel better than the mohawk helmet! But alas, we're adults and must look as such. Sigh.
Thread
Thread Starter
Forum
Replies
Last Post
Classic and Vintage Bicycles: Whats it Worth? Appraisals.
General Cycling Discussion

Posting Rules
You may not post new threads
You may not post replies
You may not post attachments
You may not edit your posts
---
HTML code is Off
---