First Tour- The Rhine

04-15-12, 09:29 AM
Newbie
Join Date: Apr 2012
Posts: 1
Mentioned: 0 Post(s)
Tagged: 0 Thread(s)
Quoted: 0 Post(s)
Likes: 0
Liked 0 Times in 0 Posts
First Tour- The Rhine
---
Hi, I'm about to do my first tour this July/August. I'm starting from Holland and heading south down the Rhine to Basel, Switzerland. I'm heading for Grenchen, Switzerland to where my girlfriend lives. Anyone who has done this route I would love any information you have, and any advice on first time touring would also be very helpful.
Many Thanks.

04-15-12, 10:32 AM
Reverse.. Berne to Basel, then took the east bank Levee top path to Freiberg.
Well almost there .. M1 Abrams battle tank blocked my path..
practicing for the next conflict..

It was 1988..

04-15-12, 11:22 AM
Carpe Velo
Join Date: Dec 2011
Location: Fort Worth, Texas
Posts: 2,520
Bikes: 2000 Bianchi Veloce, '88 Schwinn Prologue, '90 Bianchi Volpe,'94 Yokota Grizzly Peak, Yokota Enterprise, '16 Diamondback Haanjo, '91 Bianchi Boardwalk, Ellsworth cruiser
Mentioned: 0 Post(s)
Tagged: 0 Thread(s)
Quoted: 6 Post(s)
I did a ride down the Rhein & Mosel once when I was stationed there in the AF, but it was 1983 and I was on a department store Huffy then.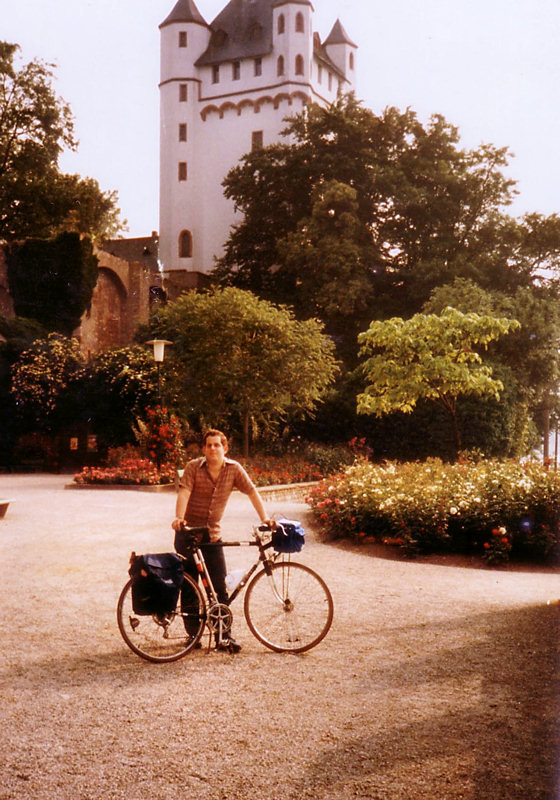 Beautiful place to ride. One strong memory is riding along the Rhein, eating cherries out of my handlbar bag. The Germans treated me much differently on a bike than if I stepped off of a tour bus with 100 other Americans.
Haven't done anything in the other countries you are visiting though. Afraid I can't offer you any good advice that is of current use, but wanted to say to have fun! (As if you need my approval for that!)

04-16-12, 04:10 AM
Senior Member
Join Date: Sep 2004
Location: Wheat Ridge, CO
Posts: 1,076
Bikes: '93 Bridgestone MB-3, '88 Marinoni road bike, '00 Marinoni Piuma, '01 Riv A/R
Mentioned: 0 Post(s)
Tagged: 0 Thread(s)
Quoted: 7 Post(s)
Likes: 0
I remember the stretch north of Cologne being very heavily industrialized, so much so that I detoured to Aachen and followed bike paths to Amsterdam. This was 1972, but I don't think that's changed too much.

04-16-12, 06:57 AM
Senior Member
Join Date: Feb 2012
Location: Yuba City, CA
Posts: 152
Bikes: Cannondale M300 mountain, '72 German Kurfalz touring
Mentioned: 0 Post(s)
Tagged: 0 Thread(s)
Quoted: 0 Post(s)
Likes: 0
Liked 0 Times in 0 Posts
I've cycled more of the Southern parts of Germany, France, Austria, Switzerland. It can get a bit industrialized along some of the rivers, but one thing I won't complain about is that there are Schnitzel Houses everywhere you turn. Food and beer, no compaints with that! And the people are very friendly/receptive to cyclists, especially being American.

04-16-12, 11:17 PM
Senior Member
Join Date: Mar 2009
Location: Oregon
Posts: 6,457
Mentioned: 31 Post(s)
Tagged: 0 Thread(s)
Quoted: 1163 Post(s)
You have selected an excellent tour for the first time out. A portion of the route my wife and I rode last summer was through Switzerland to Waldshut, Germany and then along the Rhine to The Netherlands. Other than a lot of rain, that segment of our ride was great. The route is rich in history, very scenic for the most part, and it can be challenging at times.
The Rhine route runs along both sides of the river. Stay on the west side of the river where possible. You can miss much of the industrial areas. There are numerous campgrounds, and a lot of towns with lodging. Depending on the time of year, finding a room can be difficult. When we were going to try a hotel, Booking.com was a good way to find out what was available, and also to make reservations. No reservations are needed in the campgrounds.
We did not go through Grenchen, but we did go through Delemont which is not too far from Grenchen. When you get away from the river, low gearing is nice to have.
You can't get lost. Just keep the river on your left

Enjoy the ride!
---
Last edited by Doug64; 04-16-12 at

11:30 PM

.

04-16-12, 11:35 PM
Senior Member
Join Date: Jan 2005
Location: Maastricht, NL
Posts: 584
Bikes: Gazelle Playa
Mentioned: 0 Post(s)
Tagged: 0 Thread(s)
Quoted: 1 Post(s)
Likes: 0
Liked 0 Times in 0 Posts
Very nice ride, my wife and I have done it several times (check out our page below) but starting at Cologne and heading south.
The whole route is signposted you really don't need a map and there are many campings along the way, if you're camping that is.
In Switzerland there are cycling routes to just about everywhere you want to go, just step into any tourist office for more free information.
Be carefull of the camping in Switzerland they are expensive, we paid €30 last year just north of Basel.
cheers
Thread
Thread Starter
Forum
Replies
Last Post

Posting Rules
You may not post new threads
You may not post replies
You may not post attachments
You may not edit your posts
---
HTML code is Off
---