Will this frame fit me?

04-14-14, 07:42 PM
Senior Member
Join Date: Oct 2011
Location: San Francisco
Posts: 1,108
Mentioned: 1 Post(s)
Tagged: 0 Thread(s)
Quoted: 0 Post(s)
Likes: 0
Liked 0 Times in 0 Posts
Will this frame fit me?
---
I stumbled upon
this
article from rivbike explaining the relative (un)importance of the effective toptube measurement in bike fit. Question 2 in the follow up quiz at the end of the article is particularly related to my situation:
Short rider, gender indeterminate, looking at two bikes, both blue. Blue Bike
B is 50cm with a 74° seat tube and a 52.5cm horizontal top tube, threadless
headset etc. Blue Bike C is 52cm with a 72.5° seat tube, a 54cm top tube, and
has a threaded headset. Assuming sufficient standover clearance in each bike--
in other words, the 52cm is not too big--which bike is more likely to be the more
comfortable, and how come?
I want this track frame to fit me:
~50cm ETT
+75 degree STA
This is my landshark, it's honestly a little "big":
54cm ETT
73 degree STA
0 setback post
100mm/-17 stem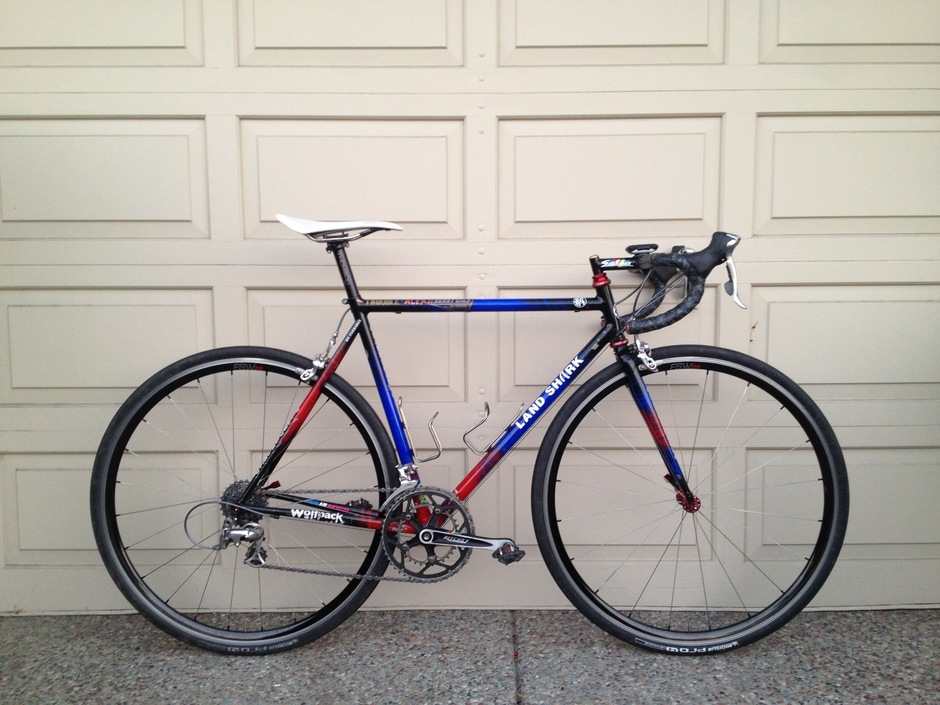 You guys think I can make it work?

04-14-14, 08:16 PM
Senior Member
Join Date: Aug 2011
Posts: 3,138
Mentioned: 0 Post(s)
Tagged: 0 Thread(s)
Quoted: 67 Post(s)
I have no idea, but Rivendell's fitting philosophy is FAR from mainstream.

04-14-14, 09:59 PM
Senior Member
Join Date: Aug 2006
Location: Portland OR
Posts: 7,643
Bikes: 61 Bianchi Specialissima 71 Peugeot G50 7? P'geot PX10 74 Raleigh GranSport 75 P'geot UO8 78? Raleigh Team Pro 82 P'geot PSV 86 P'geot PX 91 Bridgestone MB0 92 B'stone XO1 97 Rans VRex 92 Cannondale R1000 94 B'stone MB5 97 Vitus 997
Mentioned: 146 Post(s)
Tagged: 0 Thread(s)
Quoted: 392 Post(s)
Likes: 0
I'm no expert, but here are a few thoughts.

The track bike has a steep seat tube for a short wheelbase and a more forward hip position. Short wheelbase is for quick handling. Forward hip position is sometimes preferred for high cadence and sprinting. The road bike has a slacker seat tube for longer wheelbase and less forward hip position. Longer wheelbase is for stability and comfort, less forward hip position is sometimes preferred for lower cadence and climbing.

By using that setback post and sliding the saddle rearwards on it, you are sort of re-creating part of the road bike fit on the track bike. But even so it looks like the track bike has a shorter saddle to bar distance than the road bike. Shorter saddle to bar might be preferred for short, high effort sprints where you are pulling "up" hard on the bars to increase the downward force on the pedals, but too short and you might find your knees hitting your elbows or the bars on big out of saddle efforts. Longer saddle to bar distance might be preferred for spending many hours in the saddle, with room to flatten your back and stretch out comfortably.

If you put a really long stem on the track bike , you can get more saddle to bar distance. I'm not sure of the effect on handling, I think (not sure) it might slow the steering a bit.

You'll have to try it and see. Probably depends on if you will use the track bike as it was intended, shorter high intensity riding, or are planning to ride it like a road bike. My guess is the track bike is too small, but the proof is in the riding.

04-25-14, 12:38 PM
Track racing or another street fixie planned?

seat post looks like its chosen to make up for a steep seat tube.

where the roadbike it's a zero setback type. so ..

stem and seaatpost changes can alter the fit. to suit.
Thread
Thread Starter
Forum
Replies
Last Post
Track Cycling: Velodrome Racing and Training Area
Track Cycling: Velodrome Racing and Training Area
Track Cycling: Velodrome Racing and Training Area
Track Cycling: Velodrome Racing and Training Area
Track Cycling: Velodrome Racing and Training Area

Posting Rules
You may not post new threads
You may not post replies
You may not post attachments
You may not edit your posts
---
HTML code is Off
---