Most comfortable type of bike?

03-01-17, 02:13 PM
Junior Member
Join Date: Feb 2017
Posts: 18
Mentioned: 0 Post(s)
Tagged: 0 Thread(s)
Quoted: 11 Post(s)
Likes: 0
Liked 0 Times in 0 Posts
Most comfortable type of bike?
---
I am dealing with Lyme disease and have pretty bad joint and back pain. I am looking for a comfortable bike where I can sit of straight without bending over of leaning forward. I was thinking a hybrid bike or maybe a mountain bike. Any suggestions?

03-01-17, 02:32 PM
Senior Member
The most comfy bike I ever rode is a KHS Westwood. And I say this as someone with a herniated disc (L5S1) + gallbladder removal. The Trek Shift is pretty comfy too though.

03-01-17, 02:35 PM
Senior Member
Join Date: Jan 2010
Posts: 31,055
Mentioned: 199 Post(s)
Tagged: 1 Thread(s)
Quoted: 13755 Post(s)

03-01-17, 02:42 PM
Senior Member
Join Date: Mar 2010
Location: Seattle, WA
Posts: 22,131
Mentioned: 78 Post(s)
Tagged: 0 Thread(s)
Quoted: 15265 Post(s)

03-01-17, 03:07 PM
Senior Member
Join Date: Feb 2017
Posts: 282
Mentioned: 3 Post(s)
Tagged: 0 Thread(s)
Quoted: 118 Post(s)
Likes: 0
Oh man, I empathize. I have had Lyme TWICE. It is nasty.
I can tell you what I did to "effectively cure" it in a PM if you want to know. Anyway, it would really help to know what money you want to spend and the TYPE of riding you will be doing... Just as a general rule I would say get a used mountain bike and put slick tires or NOT KNOBBY tires on it if you are riding on roads and around town mostly. Raise the handlebars as high as you are confortable (but make sure there is enough stem in the frame to get a good grip). Everyone I know who just got into biking or had back pain loves the mountain bike with slick or low tread tires for street use.

03-01-17, 03:14 PM
Senior Member
Join Date: Aug 2007
Location: Toronto, Ontario
Posts: 2,567
Bikes: Trek Domane SL7, Rivendell Sam Hillborne, Winter Cycles flat bar road bike, Brompton S/M3L (modified)
Mentioned: 12 Post(s)
Tagged: 0 Thread(s)
Quoted: 597 Post(s)
A bike I have always liked is the
Linus "Roadstar 8
if you need that many gears or the Roaster Sport for 3 speed. Upright riding position, pull back bars, comfortable bike. I ride a similar designed bike and have fibromyalgia so I somewhat understand your pain. If you have more money look at the Rivendells. The larger volume tires will help soften the ride.

03-01-17, 03:22 PM
Senior Member
Join Date: Mar 2008
Posts: 8,552
Mentioned: 46 Post(s)
Tagged: 0 Thread(s)
Quoted: 1040 Post(s)
How/ where do you want to ride?
How much are you willing to spend?
'Bents are nice, but get fairly expensive If you want one that do well on climbs and poor roads.
Cruisers - if geared properly - are comfy for shorter rides.
A full-sus MTB can provide a cushy ride too.
If you have no intention of pushing it, you can even get away with a fairly inexpensive one.

03-01-17, 07:43 PM
Senior Member
I'd say visit several bike shops and test out several styles. Buy what feels right.

03-01-17, 09:42 PM
Senior Member
Join Date: Oct 2015
Location: San Diego, California
Posts: 3,485
Bikes: Breezer Radar
Mentioned: 26 Post(s)
Tagged: 0 Thread(s)
Quoted: 1880 Post(s)
FWIW I have kind of a messed up lower spine with degenerative discs and having some forward lean and supporting some weight with my hands is more comfortable for me than being upright.

03-01-17, 10:34 PM
Senior Member
+1 It really depends on the kind of damage and problem. I too have bad discs L3-5 and find being upright seems to jam the connective tissue and cause stress over any bumps, minor or not. By riding at about a 60 degree angle, it seems to separate the discs slightly as I stretch out and bend, and my back can not only absorb shock better, but that little stretch seems to have reduced my pain. Since I started riding my bike set this way, I have used very few NSAIDS whereas I was popping them daily before.
You will need to test out a prospective ride, and a quick twirl around a shop is not going to give you an adequate test. I would suggest renting some different style bikes - it doesn't matter about the components - just try different body alignments and see over an hour or so what feels best when you get up the next morning.

03-01-17, 10:48 PM
Me duelen las nalgas
Join Date: Aug 2015
Location: Texas
Posts: 13,016
Bikes: Centurion Ironman, Trek 5900, Univega Via Carisma, Globe Carmel
Mentioned: 191 Post(s)
Tagged: 0 Thread(s)
Quoted: 4268 Post(s)
Other than a recumbent, look at comfort hybrids. These generally have suspension forks (usually simple springs, good enough for 8-12 mph cruising on rough pavement and most gravel/chat trails); take wider tires (700x40 or wider); may have longer than usual wheelbases (feels very stable on sketchy and rough gravel); longer than usual stems to raise or lower as preferred, or adjustable stems that add some fore/aft adjustments; padded saddles and/or suspension seat post to cushion the ride even more.
Look for something like the
Trek Verve
,
DS1
, and similar bikes from just about every maker -- Giant, Cannondale, Specialized, Raleigh, Jamis, REI's house brands (Novara, Co-Op, Ghost, I think) and many others. They'll all have pretty comparable components within the same price range. Test ride 'em and pick one from the shop that offers the best warranty service -- at least a free basic adjustment and/or tuneup within the first few weeks or months.
I started on exactly that type of comfort hybrid in 2015 when I resumed cycling after 30+ years. In 2001 six of my vertebrae in my back were cracked and the C2 neck vertebrae was broken into splinters. I needed a cane for longer walks until 2013. So I was looking for a very gentle ride, not like the road bike I'd last ridden when I was younger and healthier.
It was a great way to ease back into riding. Last August I added a rigid fork hardtail mountain bike but I still enjoy riding the big ol' heavy comfort hybrid on achy days -- including 13 miles Wednesday on a favorite rural route with rough asphalt and chip seal and broken glass and drywall screws and nails and staples and all sorts of debris from construction crews and the various bars and stripper joints along the route. Those 700x40 puncture proof tires help a lot when I'm not in the mood for roadside flat repairs. I plucked some broken glass from the tread after the ride, but nothing penetrated the puncture resistant shield.
*****
I started out with the stem fully extended and the original riser bars. Over time I lowered the stem.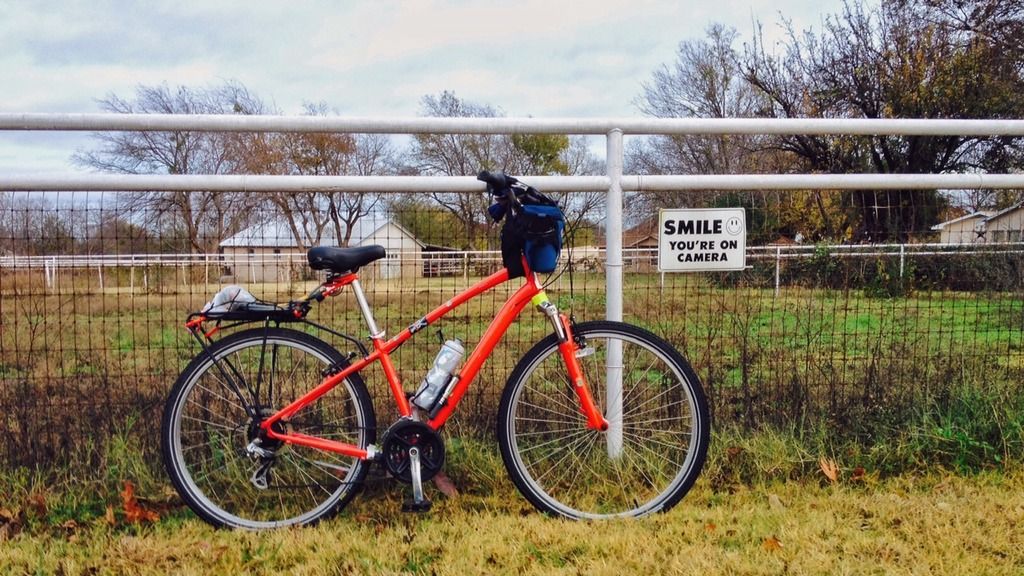 *****
Then, several months ago as my back and neck strength and flexibility improved, I swapped handlebars from another bike and put on flat bars that lowered the handlebar just above saddle height. It's about right for days when I'm not comfortable on the mountain bike.
*****

03-01-17, 11:04 PM
Senior Member
Join Date: Apr 2010
Location: Lincoln Ne
Posts: 9,094
Bikes: RANS Stratus TerraTrike Tour II
Mentioned: 29 Post(s)
Tagged: 0 Thread(s)
Quoted: 2454 Post(s)
Probably a recumbent with an adjustable seat back that you can adjust to your most comfortable position.

03-02-17, 01:40 AM
Senior Member
Join Date: Jun 2016
Location: S/W U.S.
Posts: 806
Bikes: 2016 Novara - Safari
Mentioned: 6 Post(s)
Tagged: 0 Thread(s)
Quoted: 384 Post(s)
Likes: 0
Liked 0 Times in 0 Posts
I'm rehabbing from being hit and run over last year, and I had many herniated and degenerating discs and other skeletal, tendon, and joint issues before that even happened. I have displaced bones that the surgeons decided to leave where they are, and I'm still suffering from some paralyses. I ended up in a convalescent hospital for some time. Now I say all that to tell you about a few things that have really helped me out, and made it so that I can at least ride a bicycle.
First and foremost is "bike fit". If your fit is not right, nothing else you do will work like it should. So bike fit is number one. Once you have that right, make sure the bike is properly geared for your needs and your body. With those two required items completed, I'd suggest getting this particular suspension seat-post I'm linking you to below. This, along with the seat I'm using along with it, has made a huge difference for me.
I tried about 8 or so different seats. I finally settled on this one as the most ergonomically correct for me, including for my man-parts. There is also a wider version available if that's what you need.
Selle Royal - Men's Respiro Moderate
I also installed this suspension seat-post, and I can tell you this combination has been amazing for me. The seat practically disappears beneath you, and it literally feels like you're riding on air, with absolutely zero hot-spots or pressure points at all. All jarring and impacts to my spine have been virtually eliminated. Discomfort simply no-longer exists with this setup for me.
Suntour - NCX P12 Suspension Seat-post
I hope this helps.
Thread
Thread Starter
Forum
Replies
Last Post
General Cycling Discussion
Clydesdales/Athenas (200+ lb / 91+ kg)

Posting Rules
You may not post new threads
You may not post replies
You may not post attachments
You may not edit your posts
---
HTML code is Off
---