Speedplay help

01-20-17, 03:54 AM
Junior Member
Join Date: May 2015
Posts: 6
Mentioned: 0 Post(s)
Tagged: 0 Thread(s)
Quoted: 2 Post(s)
Likes: 0
Liked 0 Times in 0 Posts
Speedplay help
---
Hello all, I have a set of speedplay pedals km not sure the model. But they are in the pictures. I'm trying to figure out what cleats to get and a budget shoe shoe/adapter to go along with it. Any help would be greatly appreciated. Completely clueless.

Thanks

01-20-17, 05:01 AM
Home School Valedictorian
Join Date: Jan 2011
Location: Iowa
Posts: 2,967
Bikes: 13 Orbea Orca 02 Giant Cypress 88 Mongoose ATB 79 frame-built to 80 spec. Schwinn Traveller
Mentioned: 5 Post(s)
Tagged: 0 Thread(s)
Quoted: 1375 Post(s)
__________________
Stop The Squeal

I ain't broke and I ain't hungry but I'm close enough to care
tp







01-20-17, 07:42 AM
Senior Member
Join Date: Sep 2012
Location: Potomac, MD
Posts: 776
Bikes: 2012 GT Transeo 3 2014 Cannondale CAAD 10 105
Mentioned: 0 Post(s)
Tagged: 0 Thread(s)
Quoted: 26 Post(s)
Likes: 0
Liked 0 Times in 0 Posts
they're certainly an X series, likely an X5 Chromoly based on the looks.

The zero has the distinct cross shape and the light actions have dimples on the pedal surface.

01-20-17, 07:45 AM
The use X series cleats, but Zero cleats also work fine with them. I know from experience.

01-20-17, 04:47 PM
Junior Member
Join Date: May 2015
Posts: 6
Mentioned: 0 Post(s)
Tagged: 0 Thread(s)
Quoted: 2 Post(s)
Likes: 0
Liked 0 Times in 0 Posts

01-20-17, 04:55 PM
FLIR Kitten to 0.05C
Join Date: Sep 2014
Location: Lincoln, Nebraska
Posts: 5,309
Bikes: Roadie: Seven Axiom Race Ti w/Chorus 11s. CX/Adventure: Carver Gravel Grinder w/ Di2
Mentioned: 30 Post(s)
Tagged: 0 Thread(s)
Quoted: 2333 Post(s)

01-20-17, 05:19 PM

01-20-17, 07:46 PM
- Soli Deo Gloria -
Join Date: Aug 2015
Location: Northwest Georgia
Posts: 14,783
Bikes: 2018 Rodriguez Custom Fixed Gear, 2017 Niner RLT 9 RDO, 2015 Bianchi Pista, 2002 Fuji Robaix
Mentioned: 235 Post(s)
Tagged: 0 Thread(s)
Quoted: 6833 Post(s)
Here is how to identify Speedplay road pedals. Look for the dimples/channels, or lack thereof...
These are Speedplay
Ultra Light Action
easy release pedals. Ultra Light Action pedals can be identified by the fact that they have eight dimples, four on each side. You can see the four dimples in the red section on the top of this pedal...
These are Speedplay
Zero
Pedals with adjustable float. These come in ChroMo, Stainless, Ti, ultralight "Nanogram" and track specific flavors. This pedal does not have dimples but channels which wrap completely around both sides of the pedal.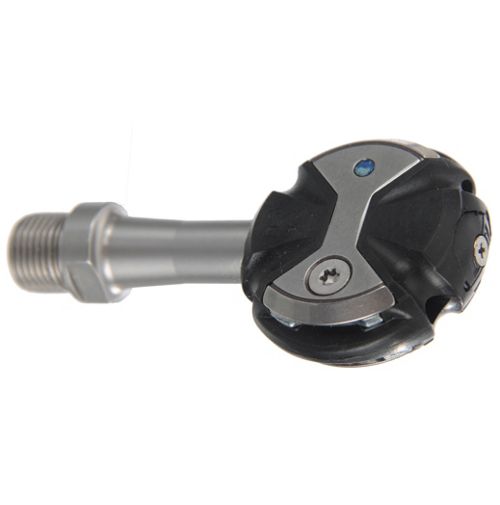 This is the original Speedplay
X-Series
with free float. Both sides of this pedal are completely smooth. If you see no dimples or channels on the top or bottom of the pedal then it is an X-Series.
Don't be fooled. Lots of craigslist sellers try to pass off light action pedals as Zero.
-Tim-

01-20-17, 08:40 PM
Randomhead
Join Date: Aug 2008
Location: Happy Valley, Pennsylvania
Posts: 20,941
Mentioned: 0 Post(s)
Tagged: 0 Thread(s)
Quoted: 4 Post(s)
so the dimples help release the cleats?

The OP's pedals are X series, most bike shops can get them.
Thread
Thread Starter
Forum
Replies
Last Post

Posting Rules
You may not post new threads
You may not post replies
You may not post attachments
You may not edit your posts
---
HTML code is Off
---