Trying to ID old frame

12-22-11, 12:46 AM
Senior Member
Join Date: Oct 2009
Location: omicron persei 8
Posts: 808
Mentioned: 0 Post(s)
Tagged: 0 Thread(s)
Quoted: 0 Post(s)
Likes: 0
Trying to ID old frame
---
Trying to get a decent ID on this thing. The BB shell says Hetchins on it but the lugs and serial dont seem to really match up. Just wondering id anyone on this side of BF has some new ideas.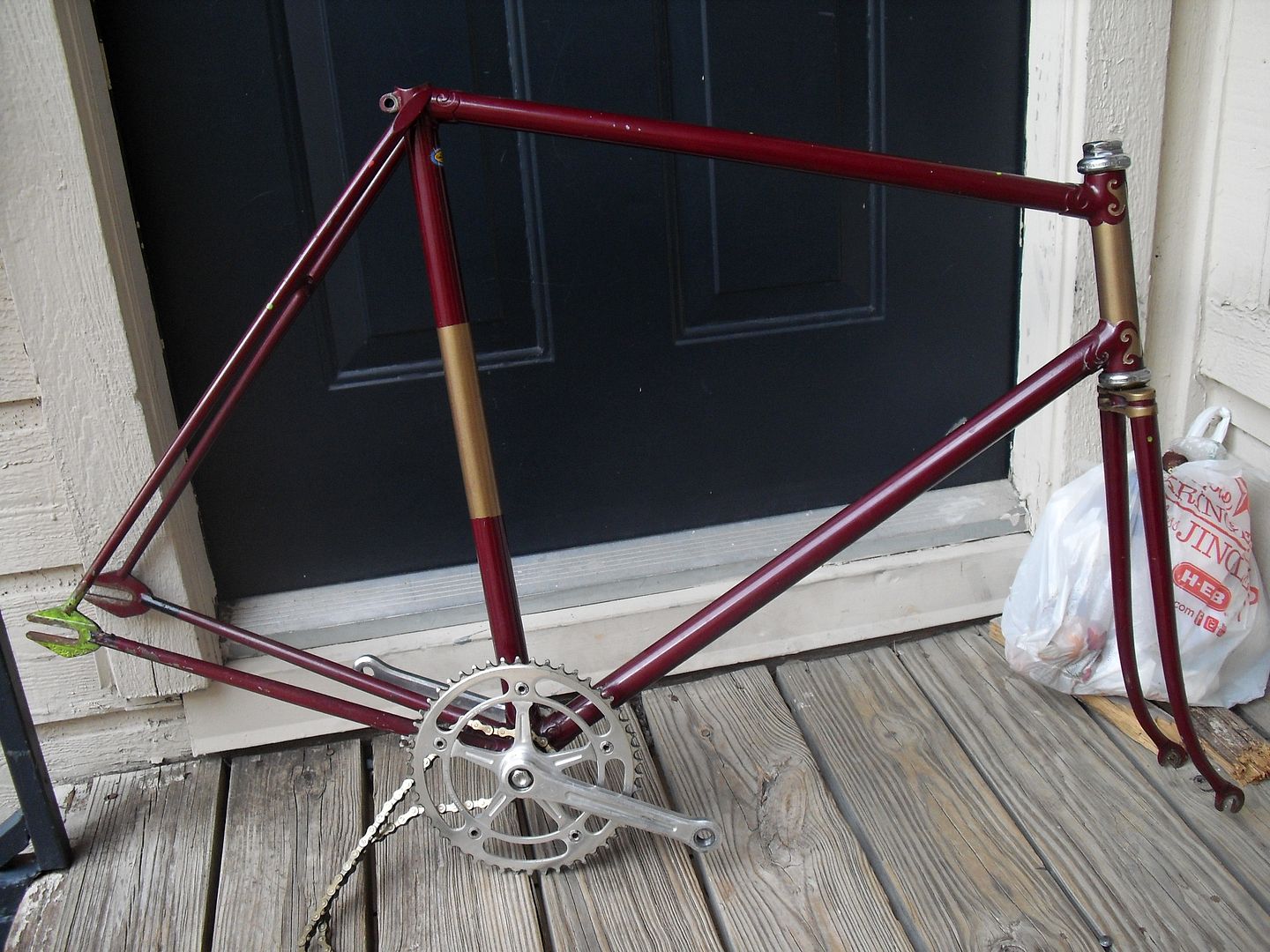 12-22-11, 12:53 AM
Just smang it.
Join Date: Feb 2011
Location: Bellingham
Posts: 2,295
Bikes: Felt F1X, Trek 2300 Composite, Dawes Deadeye
Mentioned: 0 Post(s)
Tagged: 0 Thread(s)
Quoted: 20 Post(s)
Likes: 0
Probably not going to find a whole lot more info on this side of the forum either, sadly. Usually we send questions like this over to C&V but it looks like you're from there

.
I find it interesting that this has a drilled fork and rear brake bridge. It seems to me that a bike with that fancy of lug work would have a specific track fork and an undrilled rear bridge. Is that paint original? Maybe this was a one-off custom frame since you said the bb shell and lugs don't match up.
---
Last edited by EpicSchwinn; 12-22-11 at

12:57 AM

.

12-22-11, 04:13 AM
:)
Join Date: Nov 2006
Location: duluth
Posts: 3,392
Bikes: '07 Pista, '09 Fantom Cross Uno, '8? Miyata, '67 Stingray, '0? Zoo mod trials, Tallbike, Chopper, '73 Schwinn Collegiate, '67 Triumph Chopper, '69 CB350, '58 BSA Spitfire, '73 CB450
Mentioned: 0 Post(s)
Tagged: 0 Thread(s)
Quoted: 0 Post(s)
Likes: 0
Talk to a pro before you do anything to that frame!
Serial doesn't make sense and some things seem off (non lugged brake bridge for example), but lugs appear to be Hetchins. Also doesn't look like one of the fake ones that were being made a while back... Kind of an odd duck. Lugs scream Experto Crede... But some build aspects just don't seem to fit.
---
Last edited by ianjk; 12-22-11 at

04:17 AM

.

12-22-11, 09:33 AM
.
Join Date: Aug 2005
Location: Rocket City, No'ala
Posts: 12,760
Bikes: 2014 Trek Domane 5.2, 1985 Pinarello Treviso, 1990 Gardin Shred, 2006 Bianchi San Jose
Mentioned: 3 Post(s)
Tagged: 0 Thread(s)
Quoted: 62 Post(s)
Likes: 0
Hetchins Spyder or Swallow 1970
lots of close-ups on the lugwork of both the Spyder and the Swallow, two very similar Hetchins.
https://www.hetchins.org/501spy-01.htm
https://classiclightweights.co.uk/readers_bikes.html

12-22-11, 10:02 AM
Team Beer
Join Date: Apr 2004
Location: Sacramento CA
Posts: 6,314
Bikes: Too Many
Mentioned: 3 Post(s)
Tagged: 0 Thread(s)
Quoted: 110 Post(s)
The track ends look off to me but the rest sure looks early but legit. Get it over to the C&V guys. They will be all over it.

The rear brake was common for path racers. Most guys rode to the race, removed the brakes and raced, then rode home.
__________________
I'm not one for fawning over bicycles, but I do believe that our bikes communicate with us, and what this bike is saying is, "You're an idiot." BikeSnobNYC

12-22-11, 11:15 AM
Ride for Life
Join Date: Jun 2004
Location: Houston
Posts: 2,741
Mentioned: 0 Post(s)
Tagged: 0 Thread(s)
Quoted: 6 Post(s)
Likes: 0
those are totally Experto Crede lugs. (NOT spyder or swallow)
here's one on ebay with identical track ends and rear bridge
https://www.ebay.co.uk/itm/1958-Hetch...-/200646698807
you have to remember these were a lot of custom builds, not everything is going to "match up" because the buyer could pick whatever he wanted in terms of lugs, stays, fork crowns, etc.
---
Last edited by wearyourtruth; 12-22-11 at

11:21 AM

.

12-22-11, 06:28 PM
Old fart
Join Date: Nov 2004
Location: Appleton WI
Posts: 24,347
Bikes: Several, mostly not name brands.
Mentioned: 149 Post(s)
Tagged: 0 Thread(s)
Quoted: 3307 Post(s)
Thread
Thread Starter
Forum
Replies
Last Post
Classic and Vintage Bicycles: Whats it Worth? Appraisals.

Posting Rules
You may not post new threads
You may not post replies
You may not post attachments
You may not edit your posts
---
HTML code is Off
---